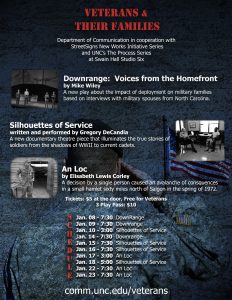 The University of North Carolina at Chapel Hill will host a festival of new works written by local playwrights and focused on veterans and their families from Jan. 8-23.
The performances will be directed by Joseph Megel, artist in residence in the department of communication and the director of the UNC Process Series. Each performance will conclude with a "talk-back" with the creative team as well as volunteers from UNC-Chapel Hill student veterans' groups.
The Performances:
"Downrange: Voices from the Homefront"
By Mike Wiley, Jan. 8, 9 and 14
"Downrange" is a new play by MFA '04 graduate Wiley about the impact of deployment on military families based on interviews conducted by Hidden Voices. A new work commissioned by the Cape Fear Regional Theatre, "Downrange" will premiere in Fayetteville in March. January's reading will be an opportunity to hear an early draft of this new work.
"Silhouettes of Service"
A Docudrama Performed and Written by Gregory DeCandia, Jan. 10, 15, 16 and 18
"Silhouettes of Service" is a new documentary theater piece that illuminates the true stories of soldiers from the shadows of World War II to current cadets. This staged workshop will be performed by MFA acting candidate DeCandia and is based on interviews with veterans across the country. More information can be found at www.silhouettesofservice.com.
"An Loc"
By Elisabeth Lewis Corley, Jan. 17, 22 and 23
"An Loc" is a reading of a screenplay. One decision by one person caused an avalanche of consequences in a small hamlet 60 miles north of Saigon in the spring of 1972. "An Loc" is a story of what happens to individuals in extremity — who rises, who falls and who might be impacted by any given explosion. It is a fictional account based on the true story of Corley's father's military service during the battle of An Loc late in the Vietnam War and its effect on the families in its wake.
"The financial costs [of war] are always high, but exponentially more important is the cost in human suffering," Megel said. "Mike Wiley, Gregory DeCandia and Elisabeth Corley have created works that take us way past comfortably abstract notions of American interests. as they weigh the moral, ethical and human dimensions of American wars on foreign soil. In the process, perhaps they bring us a little closer to understanding something about war and the toll it takes."
The event, produced in partnership with the Office of the Dean of Students, is sponsored by the College of Arts and Sciences' department of communication (performance studies), StreetSigns Center for Literature and Performance and the UNC Process Series.
All performances will take place in Swain Hall, Studio 6. Tickets can be reserved through the Carolina Union.
The Festival Schedule:
Jan 8: "DownRange," 7:30 p.m.
Jan. 9: "Downrange," 7:30 p.m.
Jan. 10:"Silhouettes of Service," 3 p.m.
Jan. 14, "Downrange," 7:30 p.m.
Jan. 15: "Silhouettes of Service," 7:30 p.m.
Jan. 16: "Silhouettes of Service," 7:30 p.m.
Jan. 17: "An Loc," 3 p.m.
Jan. 18: "Silhouettes of Service," 5 p.m.
Jan. 22: "An Loc," 7:30 p.m.
Jan. 23: "An Loc," 7:30 p.m.