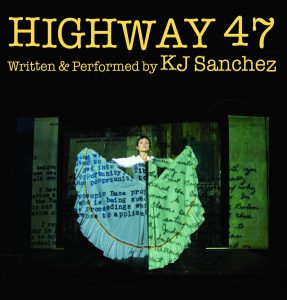 PlayMakers Repertory Company, the professional theater in residence at the University of North Carolina at Chapel Hill, begins the new year with "Highway 47," a theatrical exploration of family, community and the importance of place written and performed by KJ Sanchez from Jan. 6-10.
PlayMakers brings the acclaimed solo show to the Triangle as part of its PRC2 series, which features innovative, topical presentations coupled with engaging and insightful post-show discussions with the creative artists and expert panelists following each performance.
In "Highway 47," Sanchez spins a true tale of tangled history in the high desert town of Tome, New Mexico, where her family was among the original settlers under the Spanish Land Grants of 1734. Almost 300 years later, the community devolved into a maelstrom of disputed land rights and lawsuits with her father playing a prominent role. Personalized through the prism of a father-daughter relationship, Sanchez takes audiences through this riveting, little-known episode in the American story with its legacy of legal proceedings, class conflict and family resentments.
Performer/playwright/director Sanchez is the founding CEO of American Records, a theater company devoted to making work that chronicles our time and serves as a bridge between people. The company's flagship work is "ReEntry," based on interviews with U.S. Marines returning from Iraq and Afghanistan. "ReEntry" has been staged Off-Broadway, across the country, and at over 50 military bases and hospitals throughout the U.S., Germany and Italy. She also directs at theaters around the nation, and is the voice of many characters on Nickelodeon cartoons "Go, Diego, Go!" and "Dora the Explorer."
The Chicago Sun Times has called Sanchez "a tour de force performer and powerful writer" and The Chicago Tribune agreed, describing her as "a hugely entertaining storyteller."
Performances will take place at 7:30 p.m. nightly and 2 p.m. on Jan. 10 in the Center for Dramatic Art's Elizabeth Price Kenan Theatre, located on Country Club Road. Tickets may be purchased at www.playmakersrep.org or by calling (919) 962-7529. Tickets are also still available as part of PlayMakers subscription packages.
Rounding out this season's PRC2 lineup will be "The Real Americans," written and performed by Dan Hoyle (April 27-May 1). Next on PlayMakers' main stage is Anton Chekhov's "Three Sisters" in a new version by Libby Appel (Jan. 20-Feb. 7). The play will be directed by PlayMakers' new producing artistic director Vivienne Benesch.
Based in UNC's College of Arts and Sciences, PlayMakers is the professional theater in residence at the University of North Carolina at Chapel Hill and the Carolinas' premier resident professional theater company. New York's Drama League has named PlayMakers one of the "best regional theatres in America."