On August 15, 2017, teachers from across North Carolina sampled halva, ful medammas and baklava; spoke with a Palestinian restaurant owner; visited a Middle Eastern grocery store; and braided challah bread—all in the Triangle. The third annual "Connecting the Middle East to the Southeast" study tour, hosted by the Duke-UNC Consortium for Middle East Studies, provided a global culinary experience for teachers without leaving North Carolina.
"The local study tour concept came from a desire to introduce teachers to the cultural resources and diverse communities we have here in North Carolina," shared Emma Harver, program and outreach coordinator for the consortium. This year's study tour focused on various aspects of food and its relationship to culture, identity, politics, religion and the environment.
Harver received a micro-grant from the University of North Carolina at Chapel Hill's Food For All steering committee, a group charged with fostering the campus-wide theme, to organize the study tour around food.
"Food can be used as an entry point for teaching complex or unfamiliar topics and is a tool to connect students to wider economic, historical or cultural trends" said Harver. "Our goal was to help teachers think about creative ways to use food to approach other themes like geography and environment, trade, culture and identity." Twenty-two teachers from eleven counties across North Carolina participated in the program. In preparation for the tour, teachers completed readings to provide background knowledge on Middle Eastern food and cultures.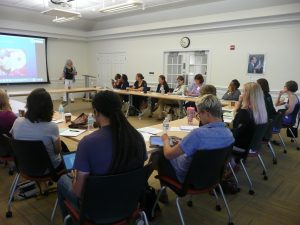 The day began with a lecture by Professor Sarah Shields, UNC Department of History, on Middle Eastern cultures, politics and environmental issues. Teachers then explored food traditions in the Ottoman Empire and contemporary Turkey with Hatice Orun Ozturk, associate professor at North Carolina State University. Oztruk is the co-founder of turkisheats.com, a website dedicated to sharing recipes from Ottoman to modern Turkey. She brought homemade rolled böreks with spinach and feta for the teachers to taste. Ozturk offered, "I hope that this leaves a bookmark in your taste buds."
Then, the teachers piled into passenger vans to embark on interactive experiences related to Middle Eastern food. The group visited Mediterranean Deli in Chapel Hill, where they ate lunch and met with owner, Jamil Kadoura. In an interview-style conversation, Shai Tamari, associate director for the Carolina Center for the Study of the Middle East and Muslim Civilizations, posed questions about food, identity and the immigrant experience. Following the meal and discussion, teachers walked around the grocery store adjoining the restaurant. Several of them purchased items to bring back to their students.
For their final tour stop, the group visited the Levin Jewish Community Center in Durham. Following an explanation of the significance of challah in Judaism and a bread braiding demonstration, teachers had the opportunity to braid their own loaves. The part they found most exciting? Each teacher got to take their own loaf home. While the bread was baking, the group learned from a panel of community members about Kashrut, ritual and holiday importance of food in Judaism, and differences and similarities between Israeli and Jewish American cuisine. The day culminated with a curriculum connections session where teachers discussed strategies for using food as a pedagogical tool and received teaching resources.
As the teachers experienced firsthand, food can provide a memorable sensory experience. Erica Kendrick, an elementary visual arts teacher in Wake County reflected, "Food tells a story and creates a connection that the students can remember." After her experience on the tour, she plans to have students create a school cookbook with their traditional family recipes.
Another participant shared, "I feel like I have a stronger understanding of Middle Eastern culture and food in general, but especially how it connects to where I live. I also particularly appreciate the concrete ideas and strategies I plan to implement when it comes to incorporating food in my classroom."
As the recipient of a Title VI grant from the Department of Education, the Duke-UNC Consortium for Middle East Studies, a collaboration of the Carolina Center for the Study of the Middle East and Muslim Civilizations and the Duke University Middle East Studies Center, promotes understanding of the Middle East by connecting K-12 educators across North Carolina to university resources through workshops, classroom resources and more.