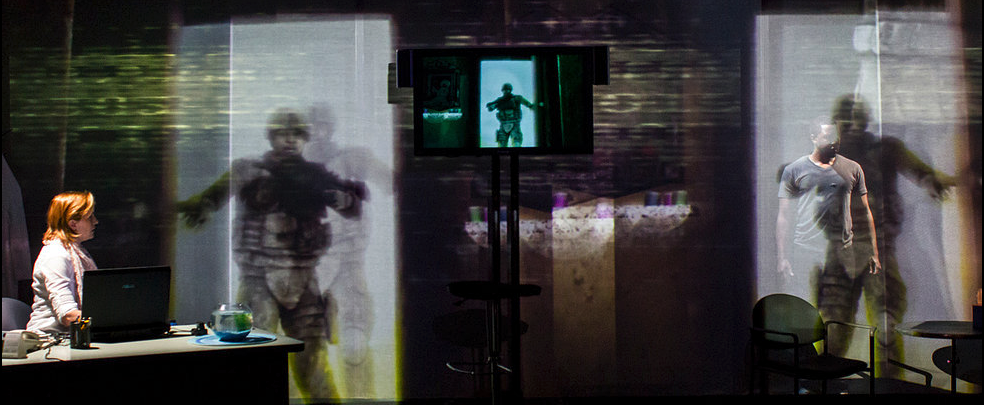 The Process Series: New Works in Development presents its tenth anniversary season, ReInvention, a season of innovative, powerful performances exploring seminal issues of social justice, digital and physical identity, and the future.
Focusing on the integration of technology and the arts as well as exploring the limits of mixed-media genres, the main series will open with the world premiere of Christine Evans's multi-media play, Closer Than They Appear, a co-production with StreetSigns Center for Literature and Performance. In a work first developed in the Process Series in 2011 (then titled You Are Dead. You Are Here.), Evans, along with media designer Jared Mezzocchi and director Joseph Megel, constructs a poignant and multifaceted image of war's far-reaching aftermath.
The rest of the season offers five equally transformative, multi-disciplinary projects, including: the faculty performance selection, Die Winterreise: A Digital Reinvention, an iconic Schubert song cycle reinvented through a novel digital lens and paired with Bill Brown's visual art installation, Aura Retrieval Machine; and The Future, presented by experimental devising company, Anonymous Ensemble with media design by Eamonn Farrell, a collective new media storytelling performance, exploring a virtual imagining of the future.


"The Process Series is always about the new, about invention, but in this Tenth Anniversary Reinvention Season, we are focused on reinvention in a number of ways," stated Joseph Megel, founder and Artistic Director of the Process Series. "What does digital media mean in the live performance experience and how does this interaction reinvent the form? In asking questions about the human experience, live performance must contend with how we interact with the digital and virtual. And how does that impact human cognition and capacity for exploration and healing," Megel continued.
Additional Process Series performances will continue to push the boundaries of art and technology, integrating issues of social justice, human rights, and reinvention. Daniel Chávez's rigorous durational dance performance project, Un-becoming Ailey will explore digital definition and re-definition of gender and race through classical dance modes, and in Kara Walker reVERSE-gesture-reVIEW, Duke University's Thomas F. DeFrantz and his company SLIPPAGE investigate revisionist histories through dance and digital technology. Our season will also include Making Tracks, a three-day reading series of four new plays that focus on issues of social justice, produced in partnership with PlayMakers Repertory Company.
Terry Ellen Rhodes, Senior Associate Dean, Fine Arts and Humanities in the College of Arts and Sciences joins in celebrating the tenth anniversary. "We applaud the outstanding work of Joseph Megel and the Process Series in these last ten years of creative, boundary-pushing, publicly-engaged performances," Rhodes says.
This year, the Process Series will be a proud sponsor (along with Arts Everywhere) of The Black Pioneer Initiative. This initiative will create a new site-specific installation version of the Black Pioneer Project in Carolina Hall in April. The Black Pioneer Project was first performed in the Process Series in 2015. In this new incarnation, students, professional actors, and a sound designer will create a movable installation performance including an audio collage from the actual Southern Oral History Program's recordings of the Black Pioneers. Audience members will be led from classroom to classroom past exhibits about Carolina's first black alumni. It will be produced again for incoming First Years as part of Week of Welcome in August of 2018.
The Process Series continues pivotal partnerships with our sponsors, including the UNC College of Arts and Sciences, Institute for the Arts and Humanities, The Center for the Study of the American South, and UNC Departments of African, African American, and Diaspora Studies; American Studies; Art; Communication; Dramatic Art; English and Comparative Literature; and Music.
This season we are also delighted to announce the UNC Chancellor's Office as a new sponsor through the Arts Everywhere Initiative.
The Process Series supports established and emerging artists by providing space, time, and access to academic and artistic resources. Immediately following each performance, we ask our audiences to join in the creative process, providing feedback critical to the development of the work as it moves forward. The Series has supported over sixty artist residencies since its inception ten years ago, with many of the projects going on to significant future lives both nationally and internationally.
THE PROCESS SERIES 2017-2018 PERFORMANCE SCHEDULE: REINVENTION
Closer Than They Appear
(previously titled: You Are Dead. You Are Here.)
By Christine Evans, Media Design by Jared Mezzocchi, Directed by Joseph Megel
A World Premiere Co-Production with StreetSigns Center for Literature and Performance
Sept. 14 through Oct. 1; Wed.-Sat. @ 8:00 p.m., Sun @ 3:00 p.m. – Swain Hall, Studio 6
Closer Than They Appear tells the colliding stories of Michael, an African American veteran undergoing virtual reality therapy for PTSD, and Zaynab, a teenager from Fallujah blogging during the Iraq war. It explores the haunted human lives—both American and Iraqi—that shadow the digital surfaces through which we wage, view, and recover from war. The play blends scripted live performance with projections developed from the animated landscapes of Virtual Iraq, a virtual-reality program based on video-game graphics and developed as a therapy tool for US veterans suffering from PTSD by the Institute for Creative Technologies at USC. A first for the Process Series, Closer Than They Appear is a full production of a work originally developed in the Series. This will be the only paid ticketed event of the season.
Die Winterreise: A Digital Reinvention
Performed by Professors Marc Callahan, Lee Weisert, and Sabine Gruffat

Wed., Nov. 29 & Fri., Dec. 1 @ 8:00 p.m. – Swain Hall, Studio 6

In a collaborative experiment, digital media artist Sabine Gruffat and composer Lee Weisert will reinvent Franz Schubert's 
Die Winterreise
 during a live performance by baritone Marc Callahan of this iconic song cycle. Using a combination of biosignal sensors and facial recognition software, projected images will come to life over a harrowing, digitalized reinvention of this 19th century music 
to measure and represent the singer's affect over the course of the song cycle.This performance will be accompanied by Bill Brown's visual art installation
Aura Retrieval Machine
a.k.a. 16mm Movie Digester, a film projector installation. Donated and deaccessioned 16mm film footage is automatically projected, then immediately destroyed by a paper shredder. As a response to the impending industrial obsolescence of 16mm film, the Aura Retrieval Machine turns a film projector into a film digester. The shredded film is collected in an acrylic column that serves as a memorial object to the final moment of exhibition of each frame of film. 
Aura Retrieval Machine
 will be available for public viewing one hour before each performance.
Anonymous Ensemble presents: The Future
With media design by Eamonn Farrell
Fri., Feb. 16 & Sat., Feb. 17 @ 8:00 p.m. – Swain Hall, Studio 6
The Future is coming. Please say hello and join The Future to share in words, sounds, and images. The Future needs to understand you, your frequencies, and your biorhythms. What is music but the beating of your heart and the air from your lungs? The Future needs your features and your informational infrastructures. The Future requests your presence and impressions.

Anonymous Ensemble creates live performance, new media, and unique theatrical events. "We value creating community wherever we are and giving voice and agency to our audiences and collaborators in our explorations of the human condition, our collective storytelling, and our commitment to the limitless possibilities of imagination."
Un-becoming Ailey: Constructing a creative and feminist trans*masculinity
By Daniel B. Coleman Chávez
Winner of the Student Commission Award from the UNC Process Series,
Provost Committee on LGBTQ Life, LGBTQ Center, and program on
Sexuality Studies
Sat., Mar. 31 & Sun., Apr. 1 @ 8:00 p.m. – Swain Hall, Studio 6
Un-becoming Ailey is a six-month rigorous durational performance project.
Working with his trained *black* dancing body, as a performance artist, Daniel will work through old body memories of injury and forcing left over from his dance career to begin a new phase of movement. Archiving the process using photography, video, live performance, and poetry he will transform his body through movement practices modeled after and inspired by male African American dancers of Alvin Ailey American Dance Theatre and explore the creation of spiritual, energetic, and health habits and practices that encourage whole-body wellness as a state of being rather than a physical goal to achieve. Among many questions asked by this work is how can re-defining masculinity in trans*ness also be about generating physical-spiritual proximity to black movement traditions?
Making Tracks
A reading series produced in partnership with PlayMakers Repertory Company
Fri., Apr. 13, Sat., Apr. 14, and Sun, Apr. 15; Times TBA – UNC Center for Dramatic Art, Kenan Theater
A reading series of four new plays that focus on issues of social justice will be produced in concert with the run of PlayMakers' production of Leaving Eden by Mike Wiley (presented in the Process Series in May 2017). The series will include an international playwright, a national playwright, a faculty playwright, and a student playwright.
Kara Walker reVERSE-gesture-reVIEW
Performed by SLIPPAGE and Thomas F. DeFranz of Duke University
Fri., Apr. 27 & Sat., Apr. 28 @ 8:00 p.m. – Swain Hall, Studio 6
This unique performance explores the provocation of Kara Walker's Harper's Pictorial History of the Civil War Annotated with shadowplay, dance, and image subtraction technology. Wondering at the place of Black women in the landscape of the Civil War, SLIPPAGE will reverse and review the potent imagery that Walker has created in response to the exhibition of prints on view at the Nasher. How can the physical gestures of dance expand the ways we might look at these visual works of art? How can dance open up interpretation and suggest even more revisionist histories of the African American presence in the visual archive of the Civil War.