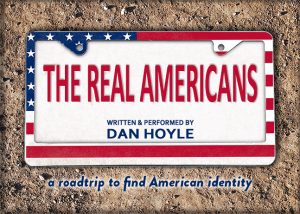 PlayMakers Repertory Company, the professional theater in residence at the University of North Carolina at Chapel Hill, will present "The Real Americans," written and performed by Dan Hoyle, April 27-May 1.
PlayMakers brings the acclaimed solo performer to the Triangle as the finale of its 2015-16 PRC2 series, which features innovative, topical presentations coupled with engaging and insightful post-show discussions with the creative artists and expert panelists after each performance.
Armed with only a van and a tape recorder, Hoyle traveled across the United States in search of what's at the heart of the heartland. In addition to down home hospitality, he witnessed angry populism among the citizens who have been called "the real Americans." With brilliant documentary storytelling that has been compared to the work of Studs Terkel and Charles Kuralt, his reflections provide a unique look at the divide between big city and small town America.
Hoyle is an actor/playwright/comedy writer whose brand of journalistic theater has been hailed as "riveting, funny and poignant" (The New York Times) and "hilarious, moving and necessary" (Salon). His solo shows, including "Tings Dey Happen," "Florida 2004: The Big Bummer," "Circumnavigator" and "Each and Every Thing" (Bay Area Theater Critics Circle Award), have been performed at theaters and universities across the country. As an actor, Hoyle has appeared Off-Broadway and in several web comedy series. His multi-actor play "Game On" won the TBA Award, while another, "The Block," will have its Off-Broadway premiere in June.
The Huffington Post described "The Real Americans" as "nothing short of brilliant: unsettling, poignant and hilarious." The San Francisco Chronicle found Hoyle's performance "impressive … beneath the masterful humor, a rich texture of human connections asserts itself." The New Yorker calls him "smart, entertaining, funny, insightful and surprising."
"This is an important — if not imperative — time to be investigating what makes our heartland tick and questioning the assumptions we make about our fellow Americans," says Producing Artistic Director Vivienne Benesch. "We're thrilled to have in Dan Hoyle a keen observer, empathic listener, astute writer and dynamic performer to lead audiences through this astonishing cross country road trip."
Shows will be at 7:30 p.m. nightly and 2 p.m. on May 1 in the Elizabeth Price Kenan Theatre in the Center for Dramatic Art on Country Club Road. Tickets may be purchased at www.playmakersrep.org or by calling (919) 962-7529.
Subscription packages are also available for PlayMakers' 2016-2017 season. For more on the new season, visit www.playmakersrep.org.