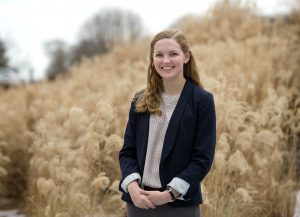 Blake M. Hauser, a fourth-year student at the University of North Carolina at Chapel Hill, has been named a recipient of the Churchill Scholarship, a research-focused award that provides funding to American students for a year of master's study in science, mathematics and engineering at Churchill College, based at the University of Cambridge in England.
Hauser was one of only 15 selected for the prestigious award, which not only requires outstanding academic achievement but also seeks those with proven talent in research, extensive laboratory experience and personal activities outside of academic pursuits, especially in music, athletics and social service. She is UNC-Chapel Hill's 16th Churchill Scholar.
"It's always my hope that our students will take full advantage of their time at Carolina and Blake has truly excelled at every opportunity both in and out of the classroom," said Chancellor Carol L. Folt. "Her Churchill Scholarship is a reflection of her hard work and commitment to academic achievement and civic leadership and we congratulate her on this exceptional honor."
Hauser, 21, is the daughter of Michael David Hauser and Elizabeth Hungarland Hauser, and is from Marietta, Georgia. She is a 2012 graduate of The Westminster Schools in Atlanta, Georgia and plans to graduate from Carolina this May with a double major in environmental health sciences from UNC Gillings School of Global Public Health and biology from the College of Arts and Sciences, as well as a minor in chemistry, also from the College.
Last year, she was one of Carolina's four Truman Scholarship finalists, the most Carolina has had in recent years.
Hauser is a Morehead-Cain Scholar, a Phi Beta Kappa member and an Honors Carolina student, currently working on her second senior honors thesis. She was awarded highest honors for her first senior honors thesis in August 2015. Hauser serves as executive director of Carolina's Eve Carson Scholarship and is a student member of the Faculty Advisory Board for the UNC Office of Undergraduate Research. She is also the president of her sorority, Kappa Kappa Gamma, where she uses her leadership platform to raise awareness for issues like sexual assault on campus and to raise money for literacy programs and breast cancer research.
Her interest in the study of infectious disease can be traced back to a summer in Malawi, where she worked on a systematic review of the impact of HIV counseling and testing on uninfected HIV individuals. Hauser returned the next summer to pursue research on the continuum of care associated with maternal initiation of antiretroviral therapy after testing positive during antenatal care and her research has already earned her co-author credits on four published and forthcoming articles. She is also co-teaching a C-START course on "The Re-emergence of Infectious Diseases: From Cholera, to Ebola, and Beyond" at Carolina this semester.
Hauser aspires to be a physician-scientist and plans to pursue an M.Phil in Evidence-Based Social Intervention and Policy Evaluation.
"Blake is an ideal Churchill Scholar, said Mary Floyd-Wilson, director of Carolina's Office of Distinguished Scholarships. "She excels as a researcher, a public servant and a leader. But more than that, Blake infuses her scholarship and service with warmth and honor. I have no doubt that her work will improve international healthcare and advance the fight against infectious disease."
The Churchill started in 1963 with three awards and since grown to an average of 14 awards. The Scholarship was set up at the request of Sir Winston Churchill in order to fulfill his vision of U.S.-U.K. scientific exchange with the goal of advancing science and technology on both sides of the Atlantic, helping to ensure our future prosperity and security. There have now been approximately 500 Churchill Scholars.