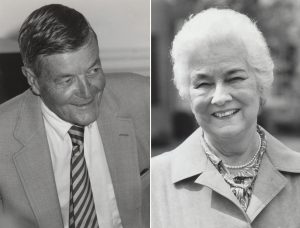 The first Board of Directors of the Arts and Sciences Foundation in 1975 included some of the state's most prominent citizens. From the beginning, the board has had fiduciary responsibilities, including the oversight of the Foundation's endowment and budget. The board meets twice annually, once in the spring and fall.
The founding board members were:
Archie K. Davis '32 ('76, M.A.) (incorporator), Winston-Salem, N.C.
Elizabeth S. Dowd '53, Charlotte, N.C.
James R. Gaskin '52 (Ph.D.), dean of the College of Arts and Sciences (1972-78)
David L. Grigg '61, Albemarle, N.C.
Frank B. Hanes Sr. '42, Winston-Salem, N.C.
Margaret T. Harper, Southport, N.C.
Lyle V. Jones, psychology professor, vice chancellor, and dean of the graduate school (1969-1979)
Frank H. Kenan '35, Durham, N.C.
William F. Little '52 ('55, Ph.D.) (incorporator), Chapel Hil, N.C.
Charles M. Shaffer '35 (incorporator), Chapel Hill, N.C.
Today's board reflects the changing alumni base, with members from across the state, country and world.