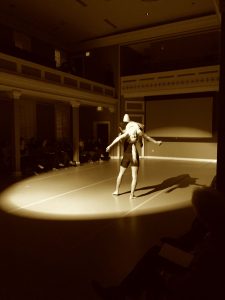 The Process Series, an annual performing arts program at the University of North Carolina at Chapel Hill dedicated to developmental presentations of new works-in-progress, announces its eighth season, which includes five dynamic professional, faculty and student projects debuting on campus beginning Sept. 25.
Founded by artistic director Joseph Megel, the mission of the Process Series is to illuminate ways in which artistic ideas take form and offer audiences the opportunity to examine the creative process and give their feedback as artists and performers explore new works.
Offered in partnership with the Institute for the Arts and Humanities in UNC's College of Arts and Sciences, all performances are free to the public and will begin at 8 p.m.
2015-2016 performances include:
"Lamentation Variation Project"
Choreography and performance by UNC-Chapel Hill students, curated by Heather Tatreau
Sept. 25 and Sept. 26
Gerrard Hall
Last spring, the Martha Graham Dance Company visited the Carolina campus, bringing with them a suite of contemporary variations on Graham's landmark 1930 solo "Lamentation." This harrowing portrayal of grief helped to define modern dance with its unsparing embodiment of raw emotion. Inspired and informed by this visit, UNC-Chapel Hill students created their own "Lamentation Variations" under interdisciplinary faculty guidance, developing these responses to grief through movement, visual art and the written word. This is the first student dance project to appear in the Process Series.
"And So We Walked"
Written and performed by DeLanna Studi and directed by Corey Madden
Nov. 13 and Nov. 14
Swain Hall
Cherokee actor and writer DeLanna Studi explores the enduring impact of the Trail of Tears on contemporary communities using research, interviews and her own family's experience. Along with her father and a documentarian, Studi retraced the steps of her ancestors from their homestead in Murphy, North Carolina, to their present home near Tahlequah, Oklahoma. Studi will spend a month in residency at UNC-Chapel Hill, turning her first-hand research on the Trail of Tears into an original dramatic work. This is presented in partnership with the Center for the Study of theAmerican South, the Southern Oral History Program and the American Indian Center.
"Mary Domingo"
A new play by Anne García Romero
Feb. 19 and Feb. 20
Swain Hall
Mary Peabody Mann, widow of education reformer Horace Mann, hopes to carry on his work by translating a book by Domingo Sarmiento, an Argentine intellectual. As her relationship with the brilliant and attractive Domingo deepens, Mary struggles to make herself heard. She espouses gender equality, but is she ready to stand up to the men in her life? This play, originally commissioned by Chicago's Goodman Theatre, is the second in Anne García Romero's trilogy about her Anglo maternal ancestor and her passion for Latin America. This is presented in partnership with the Teatro Latina/o Series and the Program in Latina/o Studies.
"The Lowest Form of Poetry"
Music by MW Duo (UNC-Chapel Hill faculty members Lee Weisert and Matthew McClure) and dance by COMPANY (Justin Tornow)
March 5 and March 6
Kenan Rehearsal Hall
Starting from the pioneering work of Merce Cunningham and John Cage, COMPANY (choreographer Justin Tornow) and MW duo (saxophonist Matthew McClure and composer/sound artist Lee Weisert) explore the space between clarity and abstraction in this new performance installation. Laser beams traverse the space in which dancers perform. By breaking the beams with their bodies, the dancers trigger samples from Cunningham's text "Space, Time, and Dance." Syllables, words and phrases fuse and detach, and accumulation rather than linear narrative moves the work forward.
"Help Me to Find My People"
Directed by Nikkole Salter, based on the book by Heather Andrea Williams
April 7 and April 8
The Sonja Haynes Stone Center
This new play, crafted by Obie Award winning playwright Nikkole Salter and based on the book by former UNC-Chapel Hill history professor Heather Andrea Williams, chronicles the journey of African-Americans from loss to the search for and discovery of their loved ones immediately after Emancipation, a search that still reverberates in African-American families today. Using contemporary documents — letters, articles, interviews, legal documents and newspaper advertisements — Salter brings the journey to freedom and family to vivid and visceral life. This is presented in cooperation with The Sonja Haynes Stone Center for Black Culture and History.
Additional works to be presented beyond the series:
"Eureka!"
New works by UNC-Chapel Hill MFA in Art alumni, curated by Jina Valentine
Nov. 11 to Dec. 12
John and June Allcott Gallery
In the graduate art studio, a Eureka! moment unites exhilaration and fear. The Aha! moment may come from experiments with new materials, techniques or narratives, or from reimagining and reassessing what, why and how things are made. This exhibition of works by two dozen UNC-Chapel Hill MFA alumni showcases their graduate school turning points alongside their current work.
Roundtable Reading Series
Locations and dates TBA
This reading series offers playwrights a chance to hear their plays read at the earliest stages of development. Featured are "There are Others" by Matt Garner (2013 UNC-Chapel Hill dramatic art MFA alumnus), "Silhouettes of Service" by Gregory DeCandia (current MFA candidate) and "Mr. Messiah" by Dana Coen (director of UNC's Writing for Screen and Stage program). This is presented in partnership with PlayMakers Repertory Company and the department of dramatic art.
Learn more at: http://processseries.unc.edu/performances/15-16-season/.
The Process Series: http://processseries.unc.edu
Institute for the Arts and Humanities: http://iah.unc.edu