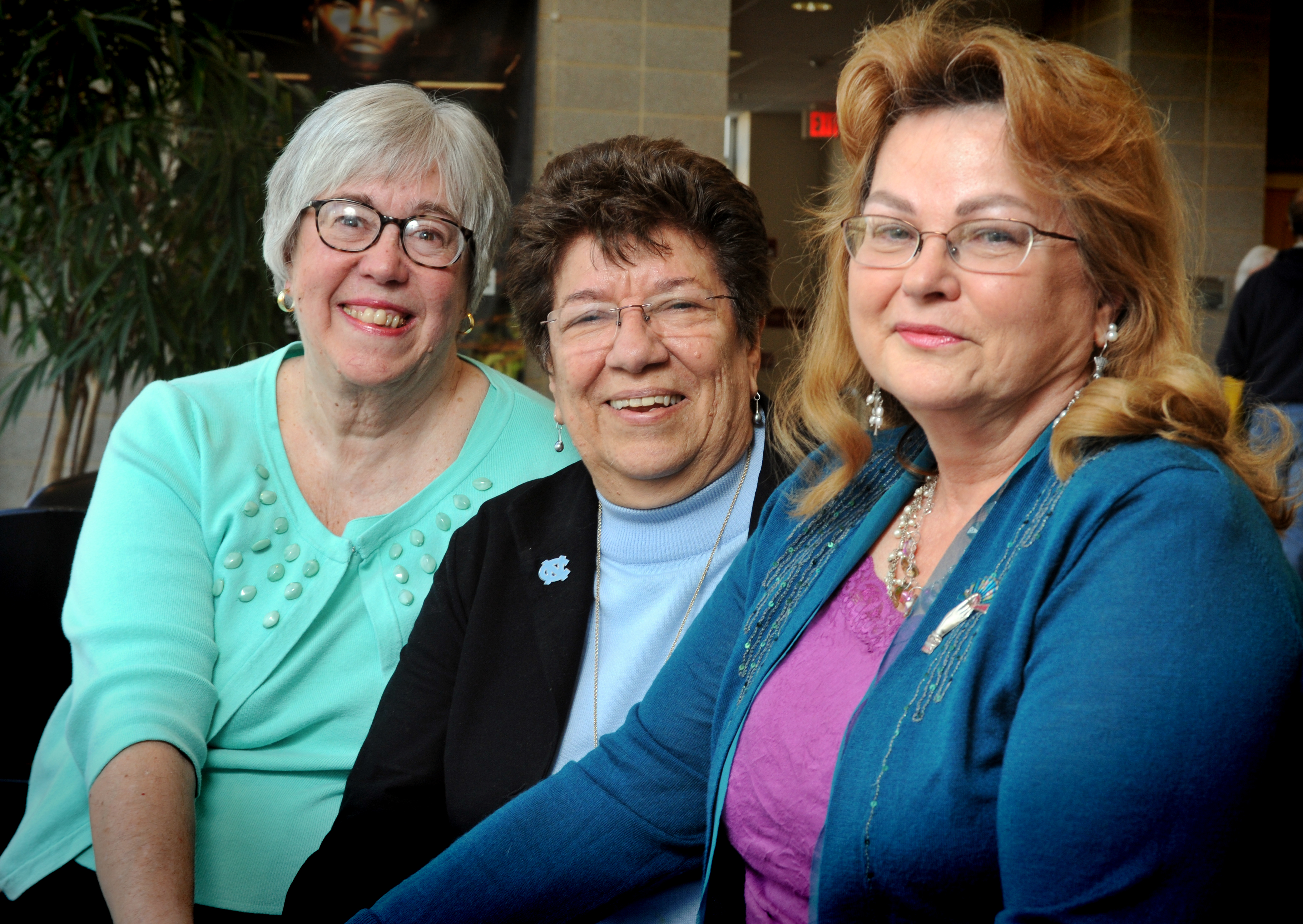 Jean DeSaix, who has taught biology at Carolina for more than 40 years, was on her way to a Ph.D. in biology and switched to the School of Education because "teaching was calling me, and I didn't want to wait."
Donna LeFebvre was a social worker, then a lawyer, before taking a one-year lectureship in the political science department in 1984. She earned her third Tanner Award for Excellence in Undergraduate Teaching this year.
Jan Boxill accepted a three-year lectureship in philosophy in 1988. She is director of the Parr Center for Ethics and in 2011 became the first lecturer elected to lead the Faculty Council.
They are known as citizens of the University, with lengthy records of service to campus and scores of University teaching awards among them – and they are all fixed-term faculty members.
"Over the years many people have asked, 'Why would you want to remain fixed-term?'" Boxill said. "That's the misconception –  that you're fixed-term because you couldn't make it on the tenure track or you don't have a terminal degree. But for many of us, this has been our choice, and a happy one."
Fixed-term faculty conduct research, serve in clinical practice and devote themselves to teaching, said Executive Vice Chancellor and Provost Bruce Carney. "All of these faculty help with the University's multiple missions."
Boxill said she chose the fixed-term path for the options it provides.
"I love teaching, and I've written books, and it wasn't that I didn't want to do all the things I'd need to in order to make tenure," Boxill said. "But, if you're working on tenure, you have to really focus on that. There were just too many things I wanted to do."
Carolina's 'Mount Rushmore'
Desaix, LeFebvre and Boxill don't remember exactly how they found each other or became friends, but together they built an alliance that's been at the center of progress and recognition for Carolina's fixed-term faculty.
In the late 1980s, the three met for lunch at the old Pepper's Pizza on Franklin Street where they formed the Fixed-Term Faculty Association.
At the time, 40 percent of instructors on campus were fixed-term, their research showed. Although these were dedicated educators, they had no official representation on campus and weren't eligible for teaching awards. The three women ordered letterhead and called a meeting.
"We didn't know how it was going to go, but when we saw the number of people who showed up for that meeting, the caliber of these people, it clicked for us: We had something to offer," Boxill said.
For three decades, DeSaix, LeFebvre and Boxill have met monthly for meals, where they socialize and bounce ideas off one another. And for three decades, they have served Carolina by teaching classes, chairing committees, publishing, researching, writing hundreds of recommendation letters and creating new classes.
They also have seen the obstacles that stood in the way of non-tenured faculty, and one by one, started picking them off.
"Each time there was a new dean of the College of Arts and Sciences, or chancellor or provost, the three of us would go down and meet with him or her, maybe to ask that something be changed, or just to talk about what people like us do," LeFebvre said.
When Chancellor Holden Thorp was dean of the college, he saw a meeting with the three on his calendar. Though he knew all three individually, he wondered why they would come as a group. He was told the women were called the "Mount Rushmore of campus."
Focusing on fixed-term
It wasn't that the administration was unsupportive of fixed-term faculty, Boxill said. They often were unaware of the issues. "We would just see things, these injustices. So, we'd simply ask, and many times it worked. We were persistent and reasonable, and we got a lot of things changed that way."
Gradually, lecturers on one-, three- and five-year tracks became recognized as faculty, gaining voting privileges and a place in Faculty Council. Then came the second and third tiers of senior lecturer and master lecturer, giving fixed-term faculty a path that could parallel tenure.
Fixed-term faculty members weren't after tenure – or upending the system of tenure, Boxill said.
"We wanted to have recognized the benefits we bring to the University and how that supports everyone on this campus," she said. "The work we do is a service to other faculty because it allows them to do the things they want and need to do to make tenure."
DeSaix compared University life to a marriage. "You've got to divvy up all the things on the list. There's always more to do than you can get done," she said. "It's not that we don't research, or that tenured faculty don't love teaching. We're colleagues, and we're helping each other out."
Thorp agrees. "Fixed-term faculty have for decades strengthened the teaching, learning and research communities on campus," he said. "Whether faculty in these positions choose to focus on research, teaching or both, their contributions to all facets of academia complement the work of faculty in tenure-track positions."
In service of students
Brian Hogan, research assistant professor in chemistry, is in his ninth year on fixed-term faculty. He came to Carolina to get his Ph.D. in 1999 and has won a Tanner Award for Excellence in Undergraduate Teaching and Chapman Family Teaching Award.
He said a fixed-term commitment provides the flexibility to concentrate on teaching and learning, his role as academic director of UNC's Scholars Latino Initiative and his interest in science education for minorities in higher education.
"The betterment of our undergraduates is my top goal, and every chair I've had has been supportive of that," Hogan said. "When Valerie (Ashby) talks about 'us,' I know she's talking about all of us – from the highest distinguished professor to me."
LeFebvre said her background in law and social work has helped her see students as valued clients. It's partially why she created the committee that was responsible for placing benches across campus.
"I like to count things like those benches in my service to these students, because that's who I have cared about most here," she said.
DeSaix said it's a problem when others think the only way to contribute to Carolina's academic culture is the tenure track, and she admits it's hard not to get wrapped up in others' ideas of who is, and isn't, "real faculty."
"I've been teaching here 40-plus years, and I learned you have to have your own sense of what it means to be good," she said. "You can't develop your sense of worth from what other people say."
Vincent Kopp, clinical associate professor in the School of Medicine's departments of anesthesiology and pediatrics, agrees that titles aren't always the best way to measure success. Kopp has spent time on both tenured and fixed-term faculty at Carolina and won a Chapman Family Teaching Award in 2001.
"There's uncertainly in all roles, and there's no real guarantee for what can happen in a career, tenure or not," he said. "But when a student calls me 10 years later and remembers something I taught him or her, or a conversation that stuck, that's where I get my affirmation."
'A community of individuals'
In the end, people choose the talents they want to develop, Boxill said, and honoring one path does not detract from the value of another.
"John Rawls said a social union is a community of individuals who share in one another's excellences as they develop their own, and I truly believe that," Boxill said.
"We're all partners here."
[ Story by Courtney Mitchell, University Gazette ]