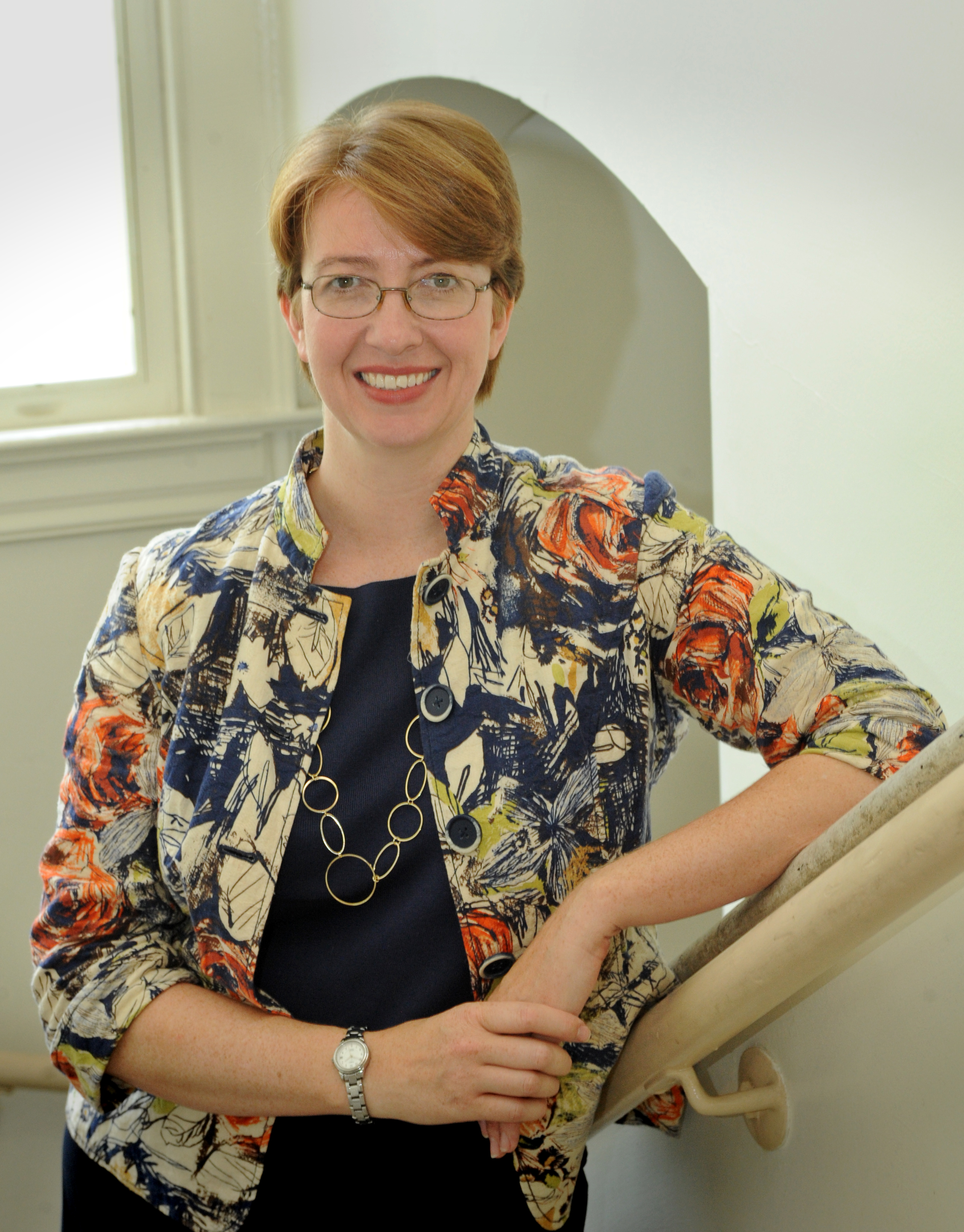 On a white wooden bookshelf in Jocelyn Neal's office sits a sealed, unopened mason jar, filled to the brim with a telltale clear liquid and dressed in a homemade label.
"That's the director's moonshine," said Neal, associate professor of music and the new director of the Center for the Study of the American South (CSAS). "My predecessor left it for me, and his predecessor left it for him."
In the corner is an old rocking chair, a recent gift from a retired professor. These are quintessentially Southern house-warming gifts for a welcome to what is undoubtedly one of the warmest buildings on Carolina's grounds.
"I think there's something symbolic about saying, 'yes, we have a place where you can sit down to talk, to think, to rest or play your fiddle,'" Neal said.
The Love House and Hutchins Forum, where the center makes its home, is an old white house on Franklin Street with pristine hardwoods, high ceilings and giant windows. The offices have hearths and the common spaces have couches. The wraparound porch is a perfect place to sip sweet tea.
In spite of the porch's suggestion of a slower pace, the center's research and activities are in high gear. As CSAS looks forward to its 20th year at Carolina, Neal said it's a place that all who study and learn about the South can call home.
Though Neal has worked with CSAS for years – as co-editor of the journal Southern Cultures and as a faculty member with scholarly interest in country music – as director, her goal is to "bring more of the intellectual happenings at Carolina to this place."
"It's a critical part of the University to get creative, curious, smart researchers together in a room where interesting things can happen," she said. "Some of the best ideas I've heard have come out of roundtable discussions here where someone asked a question no one had ever asked before."
Taking up the charge
"Every region has its wealth of stories, and I'm really pleased that Carolina has given the go-ahead to tell these stories and histories and take as part of our charge the responsibility to gather, study, preserve and understand ours," Neal said.
The center, a part of the College of Arts and Sciences since January, is a place where scholarly work from every discipline – from English to anthropology to Jewish studies – can find support for research, teaching and conversation on the history, present and future of the American South.
Grant support is one way CSAS supports faculty and graduate research and teaching on the South. Summer research grants help upwards of a dozen graduate students a year in their field research at the dissertation or master's thesis stage. CSAS supports five faculty a semester with course development and enhancement grants.
Even in what Neal calls "extremely lean budget years," the study of the South has been supported.
"Bringing in a speaker, building a technological infrastructure needed for research, supporting students' fieldwork, anything that brings the educational experience beyond the usual format, is a worthwhile investment in undergraduate learning," Neal said.
Engaging the public
CSAS also houses the four-decade-old Southern Oral History Program, whose ongoing research has yielded more than 5,000 collected interviews, and the peer-reviewed quarterly journal Southern Cultures, which stays at the front edge of Southern research while remaining accessible to a general audience.
"The center's educational and research-based mission," Neal said, "calls for CSAS to put out ideas in a way that people can actually use them. All the research in the world, the most brilliant ideas, the most phenomenal discovery, is of very little use until it can be shared and understood."
Music on the Porch, artists receptions, lecture series and events co-sponsored with other academic departments offer the local community a chance to learn from CSAS and have new experiences, Neal said.
There is one rule when a scholar is invited to lecture, the same rule that applies to Southern Cultures: intellectual accessibility.
A place and a space
CSAS displayed an exhibit of Durham artist Kate Medley's photography, "Southern Foods from the Backroads and Byways," through much of the summer. Bright photographs showed farm stands and the sides of barns, signs advertising butterbeans and "Cold Beautiful Milk."
At a reception to honor Medley's work, Neal said, an attendee grabbed his guitar and launched into an impromptu blues concert. It was just a few weeks after Neal began her post as director, and a moment that solidified what the center meant to her and to Carolina.
"Being so moved by a gathering to go get your guitar . . . that is the sort of thing that only happens if there's a place and a space," she said.
When Medley's photographs came down, the work of documentary photographers Bruce Jackson and Diane Christian went up. Photos from their collaborative work on death row culture, "In this Timeless Time: Living and Dying on Death Row in America," will be at the center through November.
Neal said it's through these diverse stories of the South, that CSAS can open the minds of scholars, students and community members alike.
"That's the wonderful thing about the South," she said. "There is that which is beautiful and light, and there is that which causes us to stop and think."
[ By Courtney Mitchell, University Gazette ]