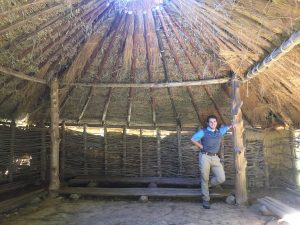 I first heard about the Summer Undergraduate Research Fellowship (SURF) program through my English 105 course during my freshman year at UNC: the unit project for our 'Writing in the Natural Sciences' unit was a mock SURF application. This was spring semester, and I had just begun volunteering in the Research Laboratories of Archaeology, making 3D Structure-from-Motion models of artifacts in UNC's collections.
I was intrigued by the potential of this technology to enable a volunteer with modest training to record important works of art and objects of cultural patrimony; I had also recently attended a talk about the destruction of cultural heritage sites in Syria, and how some volunteers were risking their lives to document these sites before they were erased. I reckoned that, since Structure-from-Motion is such an approachable and accessible technology (all you need to make a 3D model this way is a digital camera and software downloadable from anywhere with an internet connection), there might be something to utilizing this method to create accurate digital representations of threatened sites, to be curated in accessible online repositories.
Thanks to SURF and my amazing faculty adviser Steve Davis, I was able to actually test a few site documentation methods, an invaluable experience which provided insights I hope to further hone and organize to create an easy-to-use field guide for volunteers. Every bit as important as confirming workable approaches is learning what doesn't work, and my research allowed me to improve my design, and account for a variable that no breathless idea pitch and paper scheme can truly get at: that cultural preservation is, above all else, a labor of love.
It is a love, I am pleased to say, that I have discovered in myself.
Story by Chris LaMack, Office for Undergraduate Research.