Most professors expect students to use proper grammar in their classes, but in English 307, students are encouraged not to.
The class is a grammar class. Students learn concepts such as parts of speech, double negatives and malapropisms, but as they learn them, they also are required to incorporate them into sketch comedy.
Grammar as sketch comedy material sounds dry, but it's anything but that in this course.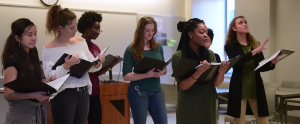 On Dec. 5, the 10 students in the class presented their semester's work of 22 sketches in the annual Gram-O-Rama show. The more than 150 friends, parents, faculty and staff who came to the performance at Wilson Library laughed and cheered throughout the hour-long show.
In one skit written by juniors Morgan Holder and Bryar Loftfield, the entire class sang "Rudolph the Red-Nosed Reindeer" in the passive voice.
"Rudolph the red-nosed reindeer, a shiny nose was had by him. And if it ever was seen, it could have been said it glowed."
In another sketch, "Informing Streaming Fifth," written by first-year student Darith Kilbanow, students performed a newscast without saying any nouns.
"That's all the informing we have tick-tock for. Thanks for tuning in this dark. We'll be back next dark with more informing about the latest in a long stringy of horrific and mysterious bloody stab stab."
Retired creative writing professor Daphne Athas created the course at Carolina in the 1970s and authored its textbook, "Gram-O-Rama: Breaking the Rules." When she originally conceived of the course, she thought of it as the operatic performance of grammar.
In the mid 1990s, with English professor Marianne Gingher teaching the class, the performances began to take a new form. There was now a generation of Carolina students who had grown up watching "Saturday Night Live" and they began to incorporate comedy into the course.
Ross White, a teaching assistant professor who has a background in comedy, stepped in to teach the course in 2015 and now offers additional instruction in sketch comedy performance throughout the semester.
Students across disciplines find their way to the course; this year's class includes English majors, as well as physics and exercise and sport science majors, too.
"So many people, when they hear the word 'grammar,' they start quaking in their boots because their entire view of grammar is prescriptivist," White said, "but when you approach it from the angle that the student who is a little hesitant can focus on the comedy while having a grammatical constraint, then they're not stressed out about the grammar. All of a sudden they have a puzzle they get to figure out."
Sophomore Langden Ramseur noted that Carolina offers classes, like Gram-O-Rama, that encourage students to step out of their comfort zone. In a traditional classroom, grammar is likely taught differently than it is in Gram-O-Rama. "I've seen that grammar doesn't have to be boring," Ramseur said.
And it's true. For students and audience members alike, Gram-O-Rama is not not a big hit at Carolina.
Story by Aaron Moger, University Communications