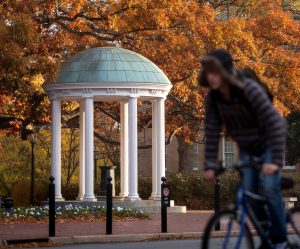 The Board of Trustees of the Southern Association of Colleges and Schools Commission on Colleges reaffirmed Carolina's accreditation for the next 10 years at the board's Dec. 5 meeting in Dallas.
SACSCOC, recognized by the U.S. Department of Education as the regional accrediting agency in the 11 U.S. Southern states, oversees institutions of higher education that award associate, bachelor's, master's or doctoral degrees. All SACSCOC member institutions are required to undergo a full accreditation review every 10 years. Carolina is a founding member of SACSCOC.
Campuses must demonstrate compliance with core requirements and comprehensive standards to earn reaccreditation. SACSCOC requires two reports, a compliance review and a Quality Enhancement Plan that focuses on broad-based campus initiatives to improve student learning.
As part of the 2017 accreditation process, Carolina adopted its QEP with the theme "Creating Scientists: Learning by Connecting, Doing and Making." Carolina administrators and faculty members who developed the QEP chose to focus it on undergraduate science for many reasons, including a 60 percent increase in intended or declared science majors since 2004. Women, minorities and first-generation science students remain underrepresented in the sciences at Carolina, and transfer students face particular obstacles in completing science coursework in time to graduate in four years.
"One very important aspect of reaccreditation is that it creates a structured process for universities to look closely at all aspects of the institution and into the areas that are vital to operations," Chancellor Carol L. Folt said. "Reaccreditation is a massive undertaking by so many on our campus, and I am grateful for the leadership of former Provost Jim Dean, Assistant Provost for Institutional Research and Assessment Lynn Williford and the hundreds of faculty and staff who have worked tirelessly to meet the rigorous requirements of this important external review."
Folt also thanked Provost Robert "Bob" Blouin for his leadership with SACSCOC this fall, and College of Arts & Sciences Dean Kevin Guskiewicz and his leadership team for their work on the QEP.
Story by Susan Hudson, University Gazette