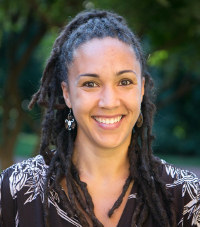 At its most recent annual meeting, the Society for Ethnomusicology awarded the Alan Merriam Prize to UNC's Chérie Rivers Ndaliko, an assistant professor in the Department of Music. The award is given annually to the author of the "most distinguished English-language monograph in the field of ethnomusicology" published in the previous two years. In the citation for the prize, Gregory Melchor-Barz (Vanderbilt University), the President of the Society for Ethnomusicology, called Ndaliko's book a "powerful ethnography of humanitarianism and creativity, art and war," one that generates "an understanding of social activism in new and frequently intense ways." 
Ndaliko's book Necessary Noise: Music, Film, and Charitable Imperialism in the East of Congo(Oxford University Press, 2016) explores the role of music and film in humanitarian initiatives in the strife-torn Democratic Republic of Congo. Based on Ndaliko's years of on-the-ground experience in the region, Necessary Noise juxtaposes ethnographic, aesthetic, and theoretical analyses of arts initiatives with case studies that expose the often destructive underbelly of charitable action. Through vivid descriptions of a community of young people transforming their lives through art, Ndaliko humanizes a dire humanitarian disaster. Her book makes a compelling case for the necessity of arts and culture in negotiating sustained peace. You can read more about Necessary Noise here; an online version of the book itself is available through the UNC library system.
Story courtesy of the UNC music department.