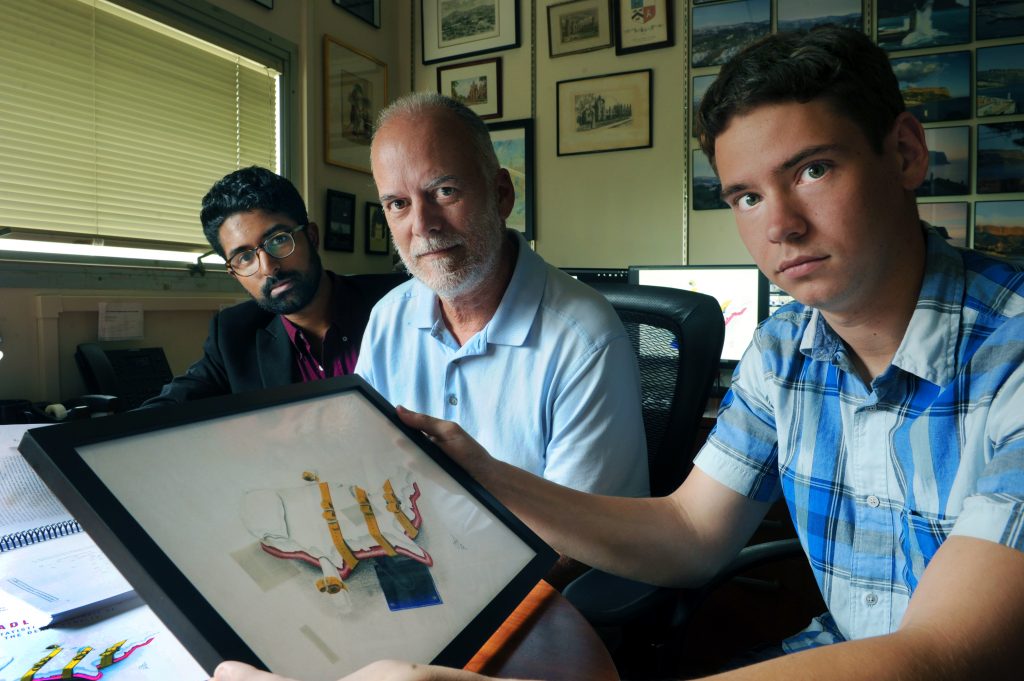 UNC political scientist Frank Baumgartner makes a strong case in the epilogue of his new book about the importance of involving undergraduate students in research.
"At one of the nation's best public universities, why would a professor not engage these brilliant minds into the world of research and social impact?" he writes.
Baumgartner, the Richard J. Richardson Distinguished Professor of Political Science in the College of Arts & Sciences, practices what he preaches. The four co-authors of Deadly Justice: A Statistical Portrait of the Death Penalty (Oxford University Press, October 2017) — Marty Davidson, Kaneesha R. Johnson, Arvind Krishnamurthy and Colin P. Wilson — all worked on the book with him when they were UNC undergraduates. Other undergraduate students worked on individual chapters.
"They're smart and able to do great work," Baumgartner said. "With this book, students got their hands dirty with data collection, seeing the difficulties of doing high-quality social science and the importance of getting things right. They got a crash introduction into research, and most of them loved the experience."
In fact, many of them loved the experience so much that it sparked an interest in pursuing graduate studies in political science.
"To this day, Frank Baumgartner is the best mentor I've ever had. His dedication to allow undergrads to engage in research and to trust them to write a book with him is pretty incredible," said Johnson, who graduated from UNC in May 2016 and is pursuing a Ph.D. in political science at Harvard University. "It gave me great confidence going into my graduate program; it made me feel like my ideas are valuable."
The book is a comprehensive examination of 40 years of the death penalty, since 1976. That year a U.S. Supreme Court decision, Gregg v. Georgia, overturned a 1972 decision, Furman v. Georgia that had invalidated all existing death penalty laws. The 1976 ruling declared the death penalty to be constitutional if it complied with certain provisions designed to ensure that it was reserved for the "worst of the worst."
Each chapter examines a specific issue such as costs associated with the death penalty, the role mental illness plays, which jurisdictions execute, methods of execution and how often death sentences are overturned. It provides statistical evidence, not opinion, about how the "modern" death penalty has functioned. Does it meet the goals set out in Gregg v. Georgia, or does it fail the test of Furman?
Many of the students who worked on the book took multiple classes with Baumgartner, starting with "Race, Innocence and the End of the Death Penalty." In that class, he created a distinguished speaker series that featured death penalty attorneys, exonerated former inmates, leaders of social justice organizations, prison mental health professionals, former prison wardens and more. Funds from the Richardson professorship made the series possible.
In fall 2015, Baumgartner invited a small group of students to take "Advanced Undergraduate Seminar: The Death Penalty," which focused on crafting the book.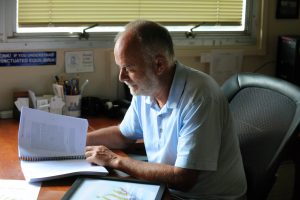 "Before, when I thought about research, I thought of an esoteric, ivory tower endeavor," said Krishnamurthy, who graduated from UNC in December 2016 and entered the Ph.D. program in political science at Duke University this fall. "This experience showed me that being in academia, I can still make a difference in the world."
Justin Cole, a senior majoring in economics and peace, war and defense, took the death penalty class with Baumgartner during his first year at Carolina. He's been working on research with him in some capacity ever since.
He co-authored the chapter that examines the cost of the death penalty.
"When most people think of the death penalty, they think the cost is all in the appeals process, but that's only part of it. It starts as early as the trial phase," Cole said. "In summary, it's more expensive at every stage of the process."
Betsy Neill, who graduated in May 2017, is co-author of the chapter on mental health and death row. She approached Baumgartner about including the topic in the book and ended up doing an honors thesis on the subject.
As an undergraduate, Neill worked for the N.C. Department of Corrections while serving as a Karen M. Gil Intern in Psychology. She also got to shadow a psychologist on death row after the internship ended.
"It's one thing to sit in a 200-person lecture hall and have a professor tell you stats about the death penalty. It's another thing to uncover something and see the numbers from doing the research yourself," she said.
Neill currently works for Open Sky Wilderness Therapy in Colorado and hopes to pursue graduate studies in either clinical psychology or social work.
Davidson graduated in 2016 and is now pursuing a Ph.D. in political science at the University of Michigan. He started out as a chemistry major at UNC, but his interests and academic career shifted after he took some political science classes his junior year. He ended up majoring in political science.
"When I see my name on the book, I think of all the experiences that have shaped me in working on it," Davidson said. He advises current students "to keep an open mind to opportunities that come before you."
Royalties from the sale of Deadly Justice will go to the department of political science for enhancing undergraduate education. Baumgartner will use the book in his spring 2018 class on the death penalty.
As part of University Research Week (Oct. 9-13), a panel discussion with Baumgartner, Krishnamurthy, Cole and associate professor of political science Isaac Unah will be held Oct. 13 at 11 a.m. in the Hitchcock Multipurpose Room of the Sonja Haynes Stone Center for Black Culture and History.  
By Kim Spurr, College of Arts & Sciences