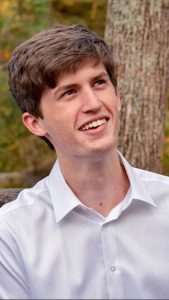 Incoming first-year student Samuel Gee of Easley, S.C., has been awarded a 2017 Thomas Wolfe Scholarship, a full, four-year merit scholarship in creative writing in the College of Arts & Sciences at UNC-Chapel Hill.
Gee graduated from the South Carolina Governor's School for the Arts and Humanities in Greenville, S.C., in June. He attended two summers of his school's Discovery and Academy writing programs and participated in the Adroit Journal's mentorship program in poetry. He has won a gold medal and honorable mention in poetry from the National Scholastic Art and Writing Awards competition and has had work published in Teenage Wasteland Review.
He counts Flannery O'Connor, David Foster Wallace and Ray Bradbury among his favorite authors and writes that "I'll probably need glasses before I turn thirty. There's a waist-high stack of books on my floor."
In addition to writing, he enjoys hobbies that include chess, Ultimate Frisbee and Appalachian music. He has traveled to New York, Atlanta, Chicago, Charlotte, London, and Washington, D.C.
In a one-sentence biography in his application, Gee wrote: "I used to go three days without sleeping, days when I'd get off work at 11 p.m. on a Tuesday and read until 3, write until 6, make breakfast for my mother, drive my sister to school, and do it all again out of sheer unashamed love."
When asked, what sort of writing do you most enjoy, Gee writes:
"I enjoy writing that has its own swagger, writing that forces the language into a dark alley and shakes its pockets empty, writing that makes me feel smaller in the world."
Creative writing professor Marianne Gingher, co-director of the Thomas Wolfe Scholarship program, said the committee was charmed by "the intelligence, liveliness and humor of Gee's prose."
"As a talented practitioner of the personal essay, he manages to be both funny and honest, with a keen eye for detail and a keen ear for dialogue," Gingher said. "It was apparent to all of us who read his work, that Sam Gee is a young writer of impressive gifts who has lived a carefully examined life, but doesn't take that life too seriously. He's a writer who makes you laugh and think at the same time —how rare is that?"
The scholarship program was established in 2001 with a gift to the College from alumnus Frank Borden Hanes Sr. of Winston-Salem. It honors Carolina graduate Thomas Wolfe, best known for his 1929 novel, Look Homeward, Angel.