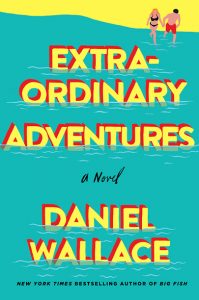 Daniel Wallace calls his new book, Extraordinary Adventures (St. Martin's Press), his most autobiographical work yet. Set in Wallace's hometown of Birmingham, Ala., the book features the journey of Edsel Bronfman — yes, that's Edsel as in the late 1950s Ford car that became a commercial failure — and his quest to open himself up to life and to love.
Edsel works as a shipping clerk for a Korean flatware importer. He lives in a sketchy neighborhood and spends his free time with his free-spirited mother. Then one day he gets a call from an operator with a company called Extraordinary Adventures telling him he's won a free weekend at a beachfront condo in Destin, Fla. The catch? The offer is for couples only, and Edsel has never had a girlfriend. So Edsel has to take a companion with him — and he' s only got 79 days to find one.
Wallace is the J. Ross MacDonald Distinguished Professor of English and director of the creative writing program in UNC's College of Arts & Science and the bestselling author of previous novels including Big Fish, Mr. Sebastian and the Negro Magician and The Kings and Queens of Roam. He said he had been writing short stories about Edsel for years and just couldn't let him go.
"Finally I had all of these stories, and I realized, 'There's probably a book in here somewhere,'" Wallace said in a phone interview from Santa Monica, Calif., where he was traveling to promote the book. "So I went back to the drawing board in a way. I converted all these short stories into a novel. … More so than any other character that I've ever written about, I could imagine what his life would be like outside the confines of the book."
Some might call Edsel naïve, but Wallace points out he's very self-aware of what he knows and what he doesn't know.
"The goal in this book for him is to find out all of these things he doesn't know," he said. "He is just a different version of everybody in that regard. I'm still trying to figure out everything that I don't know."
"Things turn out in the way you wouldn't expect in terms of the women he gets to meet, having never really met any before. As soon as he opens himself up to possibility, things start to happen."
As for setting the book in his hometown, Wallace said it's actually an amalgam of Birmingham and Chapel Hill. For instance, Edsel's love interest, Sheila McNabb, lives in Cedar Court — an actual apartment complex not far from Weaver Street in Carrboro. Hometowns leave an imprint; they hold that special power of place over you, he said.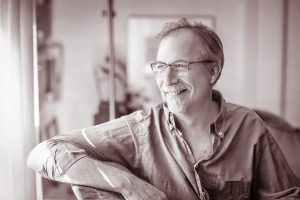 "Even though I've spent most of my life in Chapel Hill, I still find myself going back to Birmingham because that's where I was born," Wallace said. "I know it so well. As you're coming of age, all of your most vivid emotions happen as you're growing up."
Like Edsel, Wallace once worked for his dad's import/export flatware business. Wallace also once got cajoled into one of those visits to a beach condo where the company tried to sell him a timeshare. (Not a great experience, he admitted).
And like Edsel, he's never won anything — not even a free T-shirt!
"I grew up calling into radio shows and sending off for things, and I was always the sixth caller when they were looking for the fifth," Wallace said. "So the longer you try to succeed at something, the more valuable it becomes in your mind."
"I'm just screwed, totally screwed," he added. "I'm never going to win anything."
(At this point, it should be noted that Wallace's son won an Eminem CD when he was 9 years old by calling into a radio show. Wallace said things have turned out so well for his son since.)
The New York Times raved about Extraordinary Adventures, calling it "as refreshing and original as his earlier books. … Daniel Wallace is one of those rare, wonderful writers who make it look easy. You find yourself chortling and sometimes laughing aloud as you breeze through his novels, which makes it impossible to overlook the artistry and expertise that render his characters so vivid and his plots so engaging."
Still, Wallace said he tries not to pay too much attention to reviews, not like he did in the beginning of his career.
"It's not that I'm worried about getting a bad review, it's just that I've realized that enough is never enough in that world. Once you start to dig in, you always want more," he said. "So I like this book a lot, and I don't want to have to judge it in terms of the way other people look at it."
Since late May he's been on the road, visiting bookstores and libraries in Orlando, Jacksonville, Atlanta, Birmingham, Nashville, Seattle, San Francisco, Los Angeles — then it's off to New York and back home to Chapel Hill. In this technology-centric age, Wallace said he still enjoys the opportunity to connect with fans face-to-face.
So in the spirit of Edsel Bronfman, what would constitute an extraordinary adventure for Daniel Wallace?
"I actually feel like I'm on one, I really do," he said. "Just the opportunity to be able to write and to publish and to fly around the country talking to people about my book is extraordinary to me."
By Kim Spurr, College of Arts & Sciences
Read more books by College faculty and alumni.