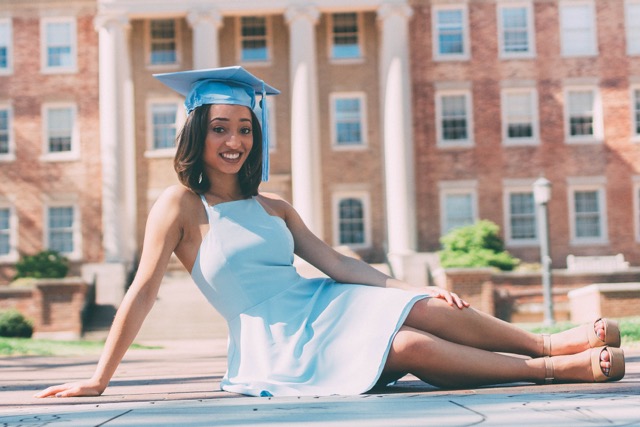 After graduation, Sierra Atwater will head to South Africa, where she'll work for a STEM education startup company on encouraging young girls to get involved in science. She's taking a gap year before applying to medical school, and she hopes to incorporate a love of STEM education into her future career.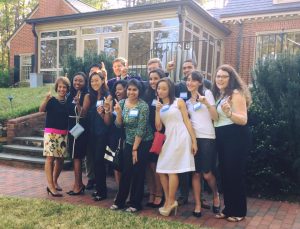 Atwater is among the first 20 graduates of the Chancellor's Science Scholars program. A biology major and chemistry minor from Pittsboro, her Carolina journey has been shaped by a network of fellow students, faculty mentors and research opportunities.
The Chancellor's Science Scholars program, begun in 2013, provides financial and academic support to encourage talented underrepresented students to pursue Ph.D. or M.D./Ph.D. degrees in science or mathematics. The program, which moved into the College of Arts & Sciences in 2015, is modeled after the nationally recognized Meyerhoff Scholars Program at the University of Maryland-Baltimore County.
CSS immerses students in research opportunities early, both on and off campus. Atwater had an internship through the Institute for NanoBiotechnology at Johns Hopkins University after her first year and spent two summers with the Howard Hughes Medical Institute Exceptional Research Opportunities Program at the University of Colorado Boulder.
"CSS helps you know how to market yourself. You are put in an environment where success is the only option," Atwater said. "I could never have imagined how this program could have impacted my Carolina experience."
The scholars begin their academic careers with a six-week program before their first semester begins called the Summer EXCELerator, where they take math and communications classes, a chemistry workshop and a course on "Navigating the Research University." They live together during the summer, and during their first year on campus. They continue to bond with the same cohort of students throughout their four years.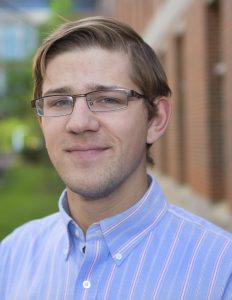 "They also go through a series of diversity workshops, lab tours and some professional development seminars," said Mike Crimmins, executive director of the program and the Mary Ann Smith Professor of Chemistry. "They are really busy; it's an intense, exhausting entry program."
Richard Watkins, who earned his Ph.D. from UNC in microbiology and immunology in 2014 is a CSS program coordinator. He said the cohort component is one of the key features of the program. Students not only receive individual mentoring, they take a one-credit-hour course together with their cohort. The focus of the course is different each year — for instance, first-year students may learn more about time management and study habits; seniors learn about interview skills and career opportunities.
The goal is to prepare them for the rigors of graduate school, Watkins said.
"Graduate school is the exploration of the unknown and utilizes a different skillset," he said. "Our students not only train with professors and principal investigators, they are working alongside other graduate students and postdoctoral fellows."
The senior scholars have a variety of post-graduation plans —graduate school, medical school, joint M.D./Ph.D. programs, post-baccalaureate programs — as well as other interesting opportunities.
Adam Kunesh, a physics and applied mathematics major and music minor from Concord, said CSS gave him "an unwavering sense of belonging." He will be entering the Ph.D. program in physics at the University of California, Davis. During his sophomore year, he began working with Rene Lopez, a UNC associate professor of physics and astronomy, on a biomimicry project adapting the characteristics of the Blue Morpho butterfly to the development of nanoscale structures with amazing optical properties. He recently defended his honors thesis on the topic.
"I hope to one day lead in an R&D division in industry, or if my research has great application potential, to launch a business postgrad," he said.
Luke Fernandez, a computer science major and entrepreneurship minor from Durham, will be joining GE's Digital Technology Leadership Program in San Ramon, Calif. Fernandez compared the program to an "applied graduate school" outside of academia.
"The two-year program I am going to is one touted for its leadership development and outstanding training," he said.
Alexander Gold, a chemistry major and biology minor from Raleigh, will pursue a Ph.D. in biomedical sciences at Boston University. He's interested in virology, more specifically how a virus moves between species and successfully evades immune responses to survive.
He said the most important component of the Chancellor's Science Scholars program has been the connections he has made with faculty and students.
"Both research positions I've had during my time here at UNC have come from faculty members telling me about an opening," he said. "Science here isn't easy. Fortunately I was surrounded by a group of students who could empathize with that."
Watkins said he looks forward to seeing what great things the first class of scholars will go on to do.
"Some of them are going to be rock stars. I look forward to saying I knew them when …"
By Kim Spurr, College of Arts & Sciences