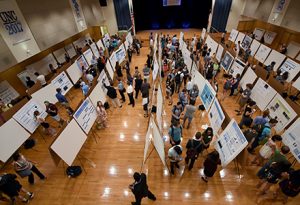 For the past 12 months, Kyle Wallace has been examining reconstructed ACLs in the Sports Medicine Research Laboratory to better understand how damage done during the reconstruction could lead to knee osteoarthritis.
As he stood in the middle of the Great Hall in the Student Union to present his year of work, he felt a great sense of relief.
"Being here with a poster and having people come up to you and ask questions, it generates quite a bit of interest in the actual research itself as opposed to just the data," said Wallace, a senior. "Something like this actually draws interest in everything from the research to the methods to the hard work that goes into these projects."
Wallace's poster was just one of the nearly 200 projects showcased at the 18th annual Celebration of Undergraduate Research at the University of North Carolina at Chapel Hill on April 27. The three-hour event provided an opportunity for Carolina's undergraduates to share the research they've done throughout the year.
Hosted by the Office of Undergraduate Research, the celebration consisted of two poster sessions inside the Great Hall and dozens of 10-minute panel sessions moderated by faculty members.
"Our undergraduates' research and scholarship is absolutely incredible," said Troy Blackburn, the associate dean and director of Office for Undergraduate Research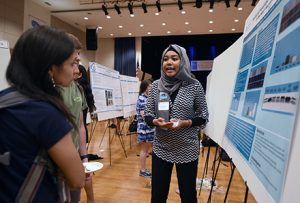 Students from nearly all departments were represented at the celebration. Research topics included health and well being; diversity and equity; environment; fine arts; education; and United States and foreign relations.
With the help of faculty advisors and graduate students, the undergraduates spent months analyzing, interviewing, researching and performing experiments on their projects.
Projects ranged from deeper understandings of concussions in sports and quantifying the mislabeling of seafood to analyzing genes and projecting tropospheric ozone load change over the next three decades.
"This truly is a research university," Wallace said. "It is definitely helpful as a student, as a person and as somebody who's about to enter the science field. Whatever field you're in, research definitely plays a role in it."
For many of the students, the event was the first time they were able to present their research to a large audience outside the classroom — an ability Kate Townsend said is key for any researcher.
"The goal is to educate people about the research — that's the ultimate goal," said Townsend, a public policy junior who was presenting her analysis of a visa program for victims of domestic violence. "Being able to have a poster and pull out the basics of your work and see what kind of questions people have is good for improving your research and also for educating the public."
Story by Brandon Bieltz and photos by Melanie Busbee, University Communications