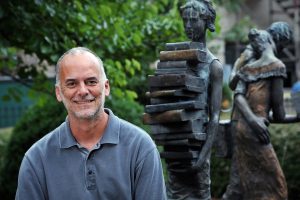 Frank R. Baumgartner, the Richard J. Richardson Distinguished Professor of Political Science in the College of Arts & Sciences at UNC-Chapel Hill, was elected into the American Academy of Arts and Sciences on April 12.
Baumgartner's work focuses on public policy, agenda-setting, interest groups in American and comparative politics, the death penalty and racial profiling in traffic stops.
The academy recently announced the election of 228 new members, which include some of the world's most accomplished scholars, scientists, writers and artists, as well as civic, business and philanthropic leaders.
Founded in 1780, the American Academy of Arts and Sciences is one of the country's oldest learned societies and independent policy research centers, convening leaders from the academic, business and government sectors to respond to the challenges facing — and opportunities available to — the nation and the world. Members contribute to Academy publications and studies in science, engineering and technology policy; global security and international affairs; the humanities, arts, and education; and American institutions and the public good.
Members of the 2017 class include winners of the Pulitzer Prize and the Wolf Prize; MacArthur Fellows; Fields Medalists; Presidential Medal of Freedom and National Medal of Arts recipients; and Academy Award, Grammy Award, Emmy Award and Tony Award winners.
The 237th class includes philanthropist and singer-songwriter John Legend, award-winning actress Carol Burnett, chairman of the board of Xerox Corporation Ursula Burns, mathematician Maryam Mirzakhani, immunologist James P. Allison and writer Chimamanda Ngozi Adichie.
The new class will be inducted at a ceremony on October 7, 2017, in Cambridge, Massachusetts.
Learn more about Frank Baumgartner.
Read more about the new class.