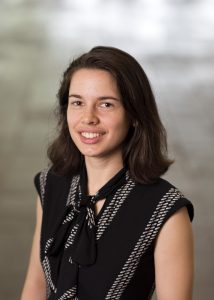 Jordan Maly-Preuss, a 2013 graduate of the University of North Carolina at Chapel Hill, has been selected for the prestigious Ertegun Graduate Scholarship Program, which funds graduate study in the humanities at England's University of Oxford.
This year, 18 scholarships were granted for one-year and two-year full-time master's degrees and for three-year doctoral degrees. Ertegun Scholars pursue research in diverse fields, from literature and archaeology to art history and medieval and modern languages. They leave Oxford prepared to be positive thought leaders and active contributors in their chosen fields and the global community.
The award includes full coverage of university and college fees as well as grants for living costs. Scholars also benefit from faculty mentors and enjoy dedicated use of Ertegun House, which provides space for writing and research, as well as access to lectures, seminars, concerts and other activities developed expressly for the Scholars.
This May, Maly-Preuss, 26, completed a two-year post-baccalaureate certificate in Classics at Carolina. As an Ertegun Scholar she plans to study Greek and Latin linguistics and papyrology, while pursuing a two-year master's degree.
"The Classics post-baccalaureate program at UNC was integral to my transition in fields of study, allowing me to gain the training and exposure I needed to confirm academic work within Classics as my long term ambition," said Maly-Preuss. "I've dreamt of attending Oxford since childhood and now I'm blessed with the scholarship I hoped for and membership at my top choice college."
Maly-Preuss grew up between Prague, Czech Republic and Dallas, Texas, and graduated from high school in Greensboro. She was recruited to attend UNC-Chapel Hill as a varsity fencer, and she competed and lettered for two years on the women's fencing team. As an undergraduate at Carolina, she earned a bachelor's degree with distinction in biology from the College of Arts and Sciences with minors in music history and Modern Hebrew. She also studied Arabic, Modern Greek and Czech.
"As the former director of graduate studies in a literature program, I know how rare it is to find support for graduate work in the humanities," said Mary Floyd-Wilson, director of Carolina's Office of Distinguished Scholarships. "The Ertegun is a stellar exception: it will allow Jordan to pursue advanced scholarship in classical studies at Oxford, where her talent and intellect can flourish."
The Ertegun Scholarship is named for Atlantic Records founder, the late Ahmet Ertegun, and his wife Mica. Ertegun was a monumental force in the music industry for decades. From the blues to jazz and rock & roll, he built an unrivaled record of identifying, nurturing and promoting artists and performers who would go on to create music for millions of people around the world. Mica Ertegun established herself as one of the foremost interior designers of the last 50 years. As the founder of MAC II, she combined her artistic vision with business acumen to create a highly successful design company.