Editor's note: F. Stuart Chapin Jr. died on May 2, 2016, just a month after celebrating his 100th birthday.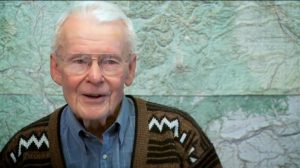 When faculty, alumni and students gathered in April to mark the 70th anniversary of the department of city and regional planning, they also celebrated the 100th birthday of one of the department's founding members, F. Stuart Chapin Jr.
Chapin joined the faculty in 1949 and retired in 1978. He authored the pioneering textbook Urban Land Use Planning, now in its fifth edition, and is credited with leading the integration of social science into the field of city and regional planning.
To commemorate his centennial birthday on April 1, the department launched a campaign to raise $100,000 in Chapin's honor to support graduate students in city and regional planning. More than 100 alumni, faculty and friends donated nearly $110,000, surpassing the original goal.
"The gifts generously extended by our alumni to celebrate Stu Chapin's legacy are important foundational building blocks to help us achieve our goals," said Roberto Quercia, professor and department chair. "Gifts made in his honor will strengthen our ongoing leadership in areas dear to Stu such as sustainability, climate change and land use and the environment, as well as the related areas of housing and real estate, economic development and transportation."
"A man of gentle integrity"
After he retired in 1978, Chapin moved to White Salmon, Wash., to serve as the governor's appointee on the Columbia River Gorge Commission. At 99, he continued to be active, taking hikes and focusing on the importance of natural resource planning.
His legacy lives on in Chapel Hill and beyond, both in his contributions to the field of planning and in the relationships he formed. He and his wife also established an endowment at Carolina, the F. Stuart Chapin Jr. and Mildred L. Chapin Endowment Fund, which supports natural resource planning and management in the department.
"As a faculty member, he was a real mentor to so many people, both master's and doctoral students," recalled Emil Malizia, professor emeritus and former chair of the department. "He was a master practitioner—he was the ultimate professional planner, but he was also a scholar."
Richard Brail earned his Ph.D. in planning in 1969 and had a distinguished academic career in planning at Rutgers University. Stu Chapin was his mentor and thesis advisor. He recalled that Chapin invited him to join a small group class on urban spatial structure in his second year of the master's program, which ultimately led him to join the doctoral program.
"He was very instrumental in my career," Brail said. "He was very warm, respectful, very professional and very organized. I think the word to describe him would be integrity—he is a man of gentle integrity."
Frank Skrivanek, who earned his master's degree in planning under Chapin in 1954 and enjoyed a distinguished career in city planning in Honolulu, says he owes his career to Stu Chapin.
"Professor Chapin taught me that if I'm taking a job, I've got to know something about the economics of that area," Skrivanek recalled. "Is it a city that has enough jobs to support its people, or is it a satellite community where they are dependent on other cities? He always said that you've got to know if the community is growing. When you do land-use planning, you have to accommodate those growth possibilities."
David Godschalk ('64 MRP, '71 Ph.D.), who studied under Chapin as a graduate student and co-wrote a later edition of Urban Land Use Planning, also recalls Chapin's quiet, calm demeanor and the brilliant mind behind it.
"He was amazing personally," said Godschalk, the Stephen Baxter Professor Emeritus in the department. "He was very modest and quiet, but underneath that modesty he had a very strong and curious mind that seemed to be working all the time."
Godschalk attributed much of Chapin's success to his dual identity as a planner and a scholar.
"A lot of people had their lives changed by Stu," continued Godschalk. "The thing that made him special was that he really understood what the two big questions were for city planners: 'How do cities grow and develop?' and 'How can planners guide that growth toward community goals?' He put those two things together, and I think that's what's given his work such staying power over the years."
To make a gift in Stu Chapin's memory, visit http://planning.unc.edu/giving.
By Joanna Cardwell, M.A. '06