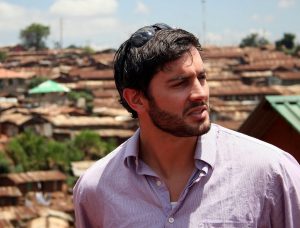 Rye Barcott '01 has been awarded an honorary degree by Dartmouth University at their June 12, 2016, commencement exercises in Hanover, New Hampshire. While an undergraduate at the University of North Carolina at Chapel Hill, Barcott co-founded Carolina for Kibera, a non-governmental organization that seeks to develop leaders, catalyze positive change and alleviate poverty in the Kibera slum of Nairobi, Kenya.
A peace, war and defense and international studies double major from UNC's College of Arts and Sciences, Barcott co-founded Carolina for Kibera (CFK) with community organizer Salim Mohamed and nurse Tabitha Atieno Festo. Kibera is a microcosm of many problems facing those living in urban poverty around the world. Approximately one square mile in size, Kibera's exact population is unknown—estimates range from 200,000 to as many as 1 million people. Most residents earn an average daily income of $1.25. HIV/AIDS rates are high, affecting between 9% and 13% of the population.
The organization has grown over the past decade and now includes 30 full and part-time staff from Kenya, plus many more volunteers, working in partnership with units across the UNC campus and the U.S. In 2005, TIME magazine and the Bill and Melinda Gates Foundation named Carolina for Kibera one of nine "Heroes of Global Health."
"We're delighted that Rye Barcott is being recognized for his past work with Carolina for Kibera and his ongoing commitment to pressing global issues," said Julian Rowa, executive director of CFK. "CFK continues to expand and build on the work that Rye, Salim, Tabitha and members of the local community initiated over a decade ago, providing tens of thousands of Kiberans with health, social and economic services each year."
After graduating from UNC, Barcott served in the U.S. Marine Corps. He juxtaposed service in the Marine Corps and his work with Carolina for Kibera in his bestselling book It Happened on the Way to War: A Marine's Path to Peace. Barcott went on to earn master's degrees at Harvard Business School and Harvard Kennedy School of Government.
Barcott is currently cofounder and managing partner of Double Time Capital, a firm that makes direct investments in cleaner American energy. A World Economic Forum Young Global Leader and TED Fellow, he serves on the boards of the National Democratic Institute and the Environmental Defense Fund-Southeast. President Barack Obama appointed him to the J. William Fulbright Foreign Scholarship Board, and the Department of Defense awarded him the U.S. Military Outstanding Volunteer Service Medal.
Barcott was recognized by Dartmouth along with five other honorary degree recipients, including Nobel Laureate Leymoh Gbowee, a human rights activist from Liberia.
To learn more about Carolina for Kibera and Rye Barcott's work with CFK, visit the CFK website.