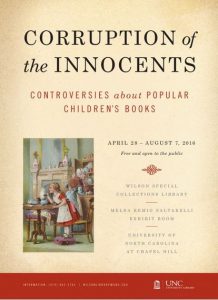 A spring exhibition in UNC's Wilson Special Collections Library will showcase controversial British and American children's literature and highlight the research of 22 UNC undergraduates.
Corruption of the Innocents: Controversies about Popular Children's Books will open in the Melba Remig Saltarelli Exhibit Room on April 28.
The free public exhibition is the work of students in English 295, "Popular Forms of Children's Literature." Members of the undergraduate research seminar investigated historical ideas about childhood and the ways that children's literature has reflected or challenged these ideas.
On view will be items that include fairy tales, scrapbooks, eighteenth-century booklets known as chapbooks, and even comics.
"This exhibition demonstrates the first principle of experiential education courses," said Prof. Laurie Langbauer, who taught the class. "Students soar when they can do their own original work. The libraries provided expert help and world class collections, and the students took off from there."
With the support of UNC librarians, the students chose representative items from the collections of Wilson Library, determined how to group and exhibit the books, and then wrote labels and explanatory texts.
The process was full of surprises. Junior Liza Kate Wall, for example, deemed finding a propaganda poster for the Treasury Office supporting U.S. efforts in World War II to be the most exciting moment of her research. The cartoonist was none other than children's book author Dr. Seuss.
Student Katherine Martin said that she and her classmates also appreciated the chance to learn more about the special collections library at the heart of campus.
"Wilson Library has this aura of prestige and most students are too intimidated to use it. This class forced us to utilize all that Wilson has to offer. It was great walking up to this incredible building and coming out having found a 200-year-old chapbook," said Martin.
Students also were able to make use of a new addition to the collections. To illustrate the "Jack tale" genre, the Rare Book Collection purchased a rare copy of The History of Jack and the Giants, an English chapbook published around 1800.
"Amazingly, the students researching the Jack tale genre found a direct connection between the edition we purchased and the tradition of Beech Mountain Jack tales in North Carolina," said Langbauer. "It was an exciting moment of discovery."
In celebration of the acquisition and exhibition, the opening of Corruption of the Innocents on April 28 will feature North Carolina storyteller Orville Hicks sharing traditional Jack tales. The program will begin at 5:30 p.m., following a reception and exhibition viewing at 5 p.m.
Corruption of the Innocents will be on view through August 7.