To see the stars, sometimes you have start in the basement.
About 20 students with majors including biology, Russian languages and studio art recently came together to build a telescope in the new makerspace in the basement of Hanes Art Center.
The Maker-in-Residence Program, part of UNC's Be a Maker (BeAM) initiative, invites experts to lead a series of workshops with students to work on projects that combine science and creativity. Danianne Mizzy, head of the Kenan Science Library and its Makerspace, conceived of the idea for the Maker-in-Residence program. She co-wrote a successful Carolina Parents Council grant with two students from the student maker group MakNet, Kai Shin '15 and Perry Harabin, a graduate Mathematics student. The program is sponsored by the department of applied physical sciences, UNC Library, BeAM, and Innovate Carolina.
Jim Pressley, an amateur astronomer with the Chapel Hill Astronomical and Observational Society (CHAOS), kicked off the telescope-building project.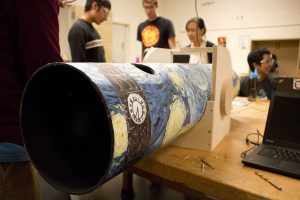 "A makerspace is about collaboration and bringing together people from different backgrounds, and allowing them space and resources to make things together," said Michelle Garst, program manager of BeAM.
Originally, the telescope was going to be painted a solid Carolina blue, but the designers were inspired by Van Gogh's Starry Night and re-created his night sky. They added UNC's Morehead-Patterson Bell Tower for a Tar Heel twist.
The project culminated in a sky-watching party outside the Morehead Planetarium. Makers joined CHAOS astronomers and invited the public to view the moon and stars through the new telescope.
The telescope will be housed in the Kenan Science Library, and will be available for other students to check out and use for their own stargazing.
Story and video by Kristen Chavez, College of Arts and Sciences
For more on the project, visit http://maknet.web.unc.edu/maknet-blog/.