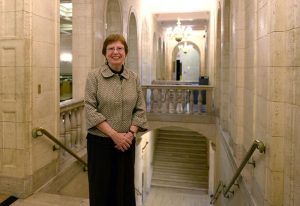 At a campus coffee shop, Connie Eble observed that a stack of coffee cup sleeves had been labeled "comfort grips," a new term to her. As a professional collector of American slang, she notices things like that.
Now she's the one being recognized.
Eble, professor of English and comparative literature, has won the 2016 Mary Turner Lane Award, which recognizes a woman who has made an outstanding contribution to the lives of women on the Carolina campus.
The Association for Women Faculty and Professionals presented the award Dec. 9 at its holiday gathering. The award, usually given in the spring, will be presented in the winter from now on.
Eble joined the Carolina faculty in 1971, after earning both her master's and doctorate in English here. She received her bachelor's degree from St. Mary's Dominican College in New Orleans. A linguist who teaches Old English and the history of the English language, Eble pioneered the serious and systematic study of college slang. She has cataloged and analyzed slang as spoken by UNC students for the past 42 years. She shared her findings in the books "Slang and Sociability" (1996) and "College Slang 101" (2003).
When she was hired at Carolina, Eble noticed something about her faculty colleagues. She was the only woman in a tenure-track faculty position in a department of 60 male professors and three women lecturers in creative writing.
"Connie Eble is one of the longest-serving women faculty members still active at UNC," Joy Kasson, recently retired professor and former chair of the American studies department, wrote in her nomination of Eble for the award. "She was a pioneer for women in the English department, which, prior to her appointment in 1971, had no tenure-track female faculty members despite large numbers of women students and graduate students."
To address the gender imbalance and to respond to the protests of female graduate students, in fall 1971 the department hired 10 women as fixed-term instructors, Eble said. Two of those, Kasson and Margaret Anne O'Connor, moved to tenure-track positions within a couple of years.
Yet, six years later, when Eble's tenure was being voted on, only one woman was part of the long approval process – the lone female member of the Board of Trustees. The University has made great strides since then, Eble said. The College of Arts and Sciences has had four female deans, Molly Corbett Broad served as president of the UNC system and Carol L. Folt is the University's first woman chancellor.
Policies have improved, too. A nepotism rule used to prevent faculty couples from working in the same department; now spousal hiring is encouraged as a recruitment tool. Maternity leave was not available for female instructors, and no temporary replacements were hired while the instructor was out. "We just covered your classes," Eble said, recalling a colleague who returned to teaching only two weeks after giving birth.
Class offerings have become more diverse, too, with the creation of a women's (now gender) studies department and courses focused on the work of women writers.
"Connie has always been mindful of the needs and special contributions of women in her own department and across the campus," Kasson said. "Back in the day when proposing a course on 'women in literature' was still controversial, Connie championed the need to expand her department's offerings and make the university more friendly to women at all levels."
Eble was one of the founders of the Association for Women Faculty (predecessor to AWFP) and has served on committees such as the executive committee of the Faculty Council (2004–07), the committee on appointments, promotion and tenure (2008–10) and currently the committee on university government. She twice served as chair of the humanities division.
She has also been a mentor and a role model, to men as well as women, a male colleague wrote in his nomination letter. "Though the term 'role model' is overused, she has been just that to women at UNC – and not just women. Many men look up to her. I count myself first among that rank. She has been an invaluable interlocutor and professional resource," he wrote. "I offer my strongest recommendation that Connie Eble be awarded the AWFP Mary Turner Lane Award. She's invaluable and terrific."
Eble, who is teaching her last semester full time before going into phased retirement, said she appreciated the award very much, although "in the advancement of women, I have not been a real leader," she said. "I've been in the trenches."
Receiving the award has made her reflect on how far women have come, how far they still have to go and how many of the gains made since the 1970s are taken for granted now. "I've really been thinking about it since they told me I won this award and thinking how much things have changed," she said. "I don't want to act as if everything is just fine right now because I still think if you ever let your guard down, we'll go backwards."
The Mary Turner Lane award, established in 1986, is named for one of the group's founders, the late Mary Turner Lane, who was an associate professor emerita of education and became first director of Women's Studies in 1976.