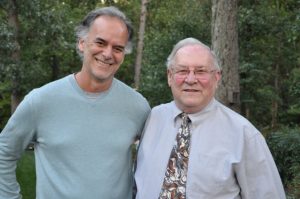 In 2009, Frank Baumgartner was named the inaugural Richard J. Richardson Distinguished Professor. Baumgartner came to UNC from Penn State, where he was on the political science faculty for a decade. A Detroit native who earned all of his academic degrees from the University of Michigan, he previously held positions at the University of Iowa and Texas A&M University. He has authored more than half a dozen books on a variety of public policy topics.
One of Baumgartner's most well-known projects is the Policy Agendas Project (www.policyagendas.org), which he created with Bryan Jones, a professor at the University of Texas at Austin. The online initiative provides comprehensive databases for analysis of every congressional hearing, law, bill introduced, Supreme Court decision, executive order and more since 1947. The site is available to the public and is widely used as a teaching tool for American government and interest-group politics.
Research funds from the Richardson Professorship have enabled Baumgartner to hire undergraduate researchers, provide stipends to graduate students, support undergraduate honors theses, travel to conferences and meetings, host a speaker series on the death penalty, and more.
"Having the Richardson Professorship has allowed me to do a great number of things I would not have been able to do otherwise," Baumgartner has said. "The funds provided by the professorship have made my job so much more interesting, and I hope will also improve the student experience here at UNC for many others."
Richard J. Richardson Distinguished Professorship
In 2005, friends and family of beloved UNC political science professor Richard J. Richardson pledged $666,000, which was supplemented with $334,000 from the N.C. Distinguished Professors Endowment Trust Fund, to establish the Richard J. Richardson Distinguished Professorship in the College of Arts and Sciences. The professorship was created to attract or retain a senior teacher and scholar of American politics in the political science department.
Tom Uhlman ('71 M.S., '75 Ph.D.) made the lead gift in the endowed professorship honoring Richardson, who retired in 2000 after a 30-year tenure.
"Dick's teaching and excellence combined with his warm and open personality drew me to him as well as his favorite subject — the law," Uhlman said. "I was both inspired and challenged by him. During difficult times as a graduate student his door was always open."
Uhlman is not alone in his admiration of Richardson, who left a teaching position at Western Michigan University to join Carolina's political science faculty in 1969. Former students remember him not only as an inspiring educator but also as a friend and mentor, always ready to listen and give advice.
A Missouri native, Richardson earned a bachelor's degree in public affairs from Hardin College in 1957. At Tulane University, he earned a master's degree in 1961 and a doctorate in 1967, both in political science.
In 1995, then-Chancellor Michael Hooker '69 selected Richardson to be UNC's provost. Richardson agreed hesitantly, reluctant to give up teaching, which he cherished above all. As the University's chief academic officer, Richardson served as faculty chair of Carolina's bicentennial celebration, working for three years to conduct over 100 special events, programs and performances.
Even as an administrator, Richardson remained passionate about undergraduate teaching and valued the University's commitment to both research and teaching. "There's a very deep sense in this university that one can be a great research institution and provide a great undergraduate experience at the same time," Richardson said.
Richardson retired in 2000 to spend time with his wife, Sue, and his four children and nine grandchildren. In 2005, he received the William Richardson Davie Award, the highest honor bestowed by the Board of Trustees recognizing extraordinary service to the University or to society.
Although his tenure has ended, Richardson remains involved in and dedicated to Carolina.
(Portions taken from Richard J. Richardson's William Richardson Davie Medal acceptance speech, a spring 2002 Poli Sci @ Carolina newsletter article and a Jan./Feb. 1997 Carolina Alumni Review article by David E. Brown and Karen C. Blansfield.)