EVENT HAS BEEN RESCHEDULED FOR 4-6 p.m. MARCH 3
The folks at the UNC Writing and Learning Centers, based in the College of Arts and Sciences, know it's not easy for students to spend time away from their smartphones.
"As more and more students have smartphones and tablets in their hands, we thought we should look at the universe of digital tools and see if we could pull together some apps we think could be helpful to students," said Kim Abels, director of both centers.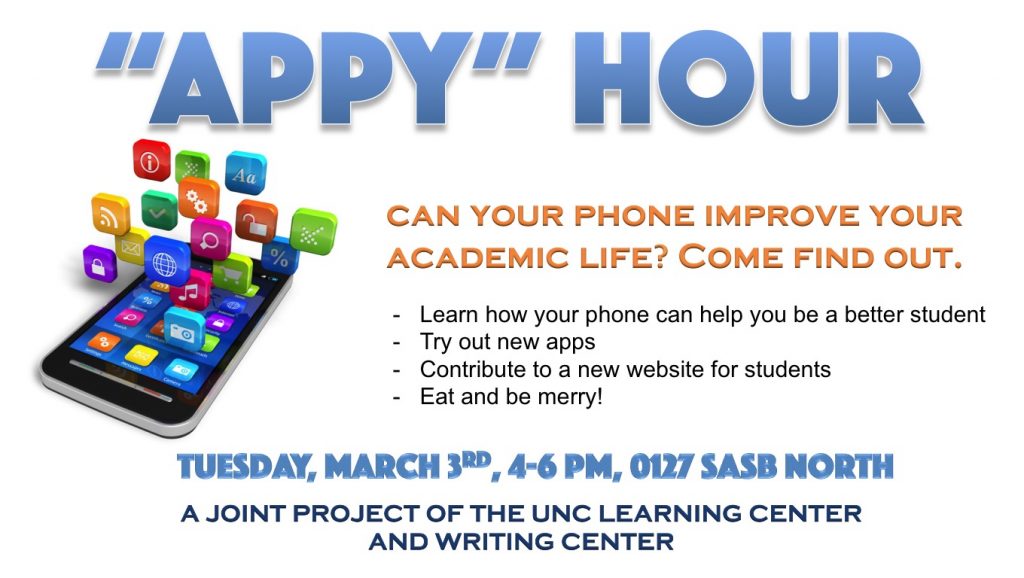 From 4 to 6 p.m. on March 3, the Writing and Learning Centers will host "Appy Hour," a launch party for their new compendium – a website with recommended apps and programs selected to help students use their smartphones to maximize their productivity.
The Web page features a variety of apps ranging from alarm clocks to flashcard generators. The compendium operates on check box filters like "reading," "study tools," and "wellness." Users select the appropriate filters, and the compendium generates a list of recommended smartphone apps available to download.
"We put thought behind the apps on this list," said Percival Guevarra, the webmaster behind the compendium. "That's why Buzzfeed is so popular – people like lists of top things that have been prescreened. The compendium is just like that, except it's not about entertainment but about making your study habits better."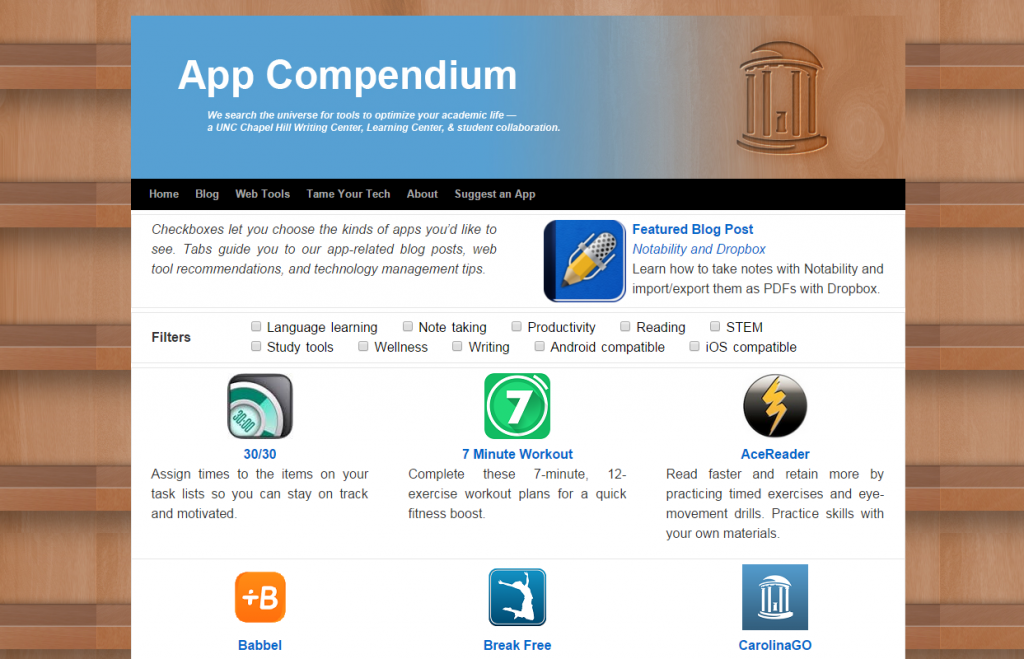 The launch party will be held in the Writing Center, in the basement of SASB North. Students will be able to test-drive the apps using iPads arranged around the room.
UNC '91 alumus Michael Levy will be at the event. Levy is a director at Elevate, a brain-training app that was named Apple's Best App of 2014.
"The compendium is an extremely valuable tool for students because thousands of learning apps are released each year. Some are good; others are very bad," he said. "A few months ago I downloaded a British history app that got great reviews because of its design but the content wasn't all factually correct."
"It is useful for students to have a list they can trust," Levy said.
The centers will be taking student recommendations for apps at the event. Abels said that the compendium is an ongoing project and that new apps will be added to it periodically.
One of the most popular pages on the Writing and Learning Center websites is the handouts page, featuring guides on topics such as how to create an annotated bibliography or send a professional email.
"The handouts are our highest-traffic page because it shows everything on one screen and you don't have to scroll much," Guevarra said. "We designed the compendium to be like this, too. When you go to the app store, you have to do a lot of navigating. We want all our information to be easily accessible."
Abels said the compendium, like the handouts, is simply another tool for students. The centers will be sharing tips at the event to help students prevent their technology use from interfering with study time.
"Apps aren't the answer to student success, but there may be an opportunity to use phones in a good, productive way," she said.
"We're here to point students in the right direction."
By Parth Shah '15