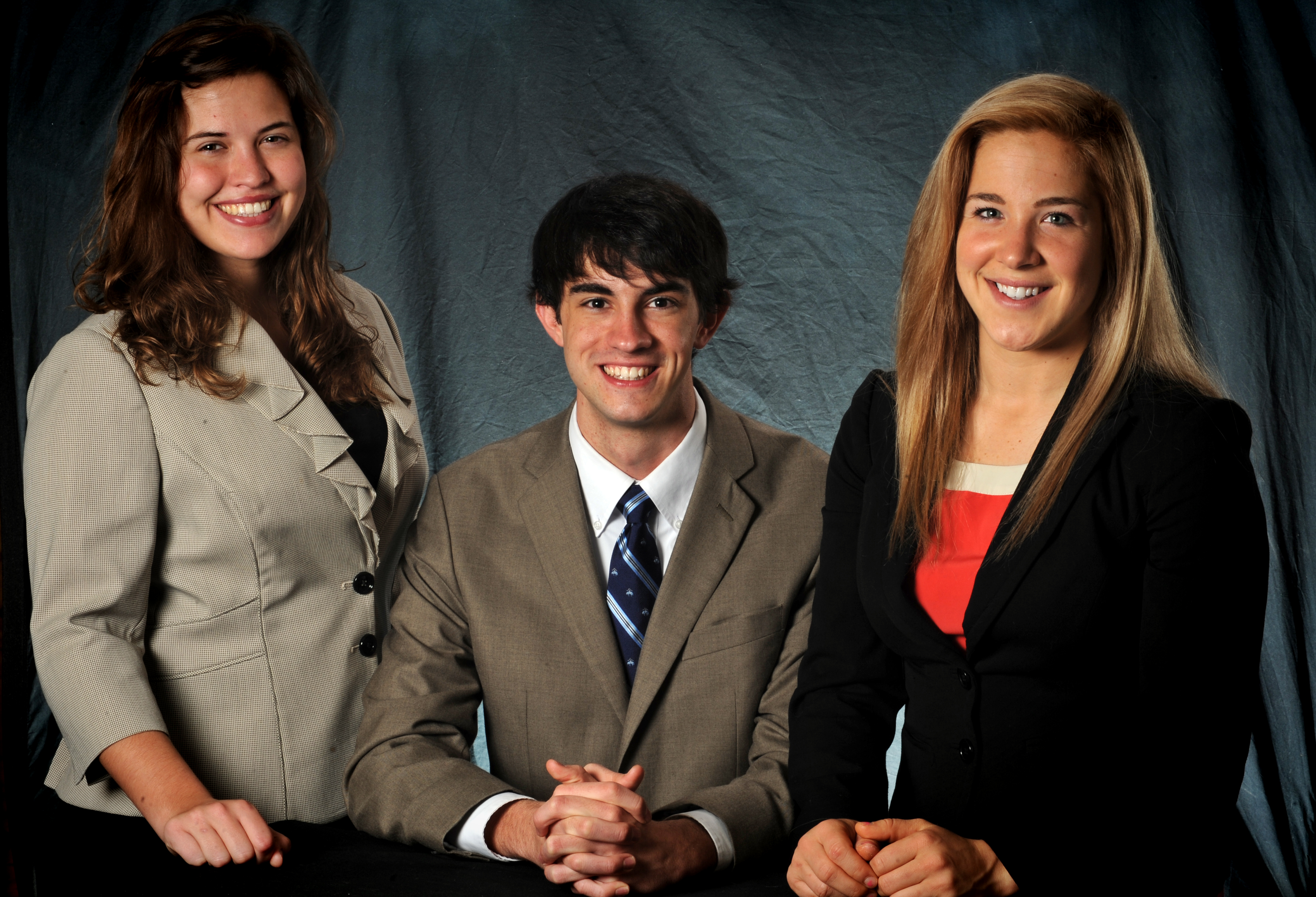 UNC juniors Michael Adams, Paige Nielsen and Nancy Smith have been named the 2015 Eve Carson Scholars. The scholarship will fund half of the cost of attendance in their senior year, plus $5,000 each for a summer experience they have proposed.
Adams, Nielsen and Smith are all pursuing majors in the College of Arts and Sciences.
A 10-member selection committee composed of students, faculty, staff and alumni chose the three scholars from among 87 applicants. The selection committee looked for applicants that demonstrate leadership, service, character and transformative growth since matriculation at UNC-Chapel Hill.
Originally from Lincoln, Nebraska, Nielsen is a member of the Carolina women's soccer team and is a double major in business administration and biology. With the scholarship, Nielsen hopes to start a half marathon race to raise funds for the college tuition of children of single parents with cancer.
Adams, a native of Pinehurst, is double majoring in public policy and political science with minors in politics, philosophy and economics. He is the founder of Carolina Association of Parliamentary Debate, which is designing a national debate tournament encompassing more than 15 schools. He serves as the vice president of Sigma Phi Society, a social fraternity at UNC-Chapel Hill. Adams hopes the scholarship funds will allow him to start a free debate camp for middle school students of low socioeconomic status.
Smith is a double major in Arab cultures and global studies. From Asheville, she serves as the operations officer of the UNC Navy ROTC Battalion, which is the third highest rank within the battalion structure. Smith is dedicated to spending her summer abroad, where she hopes to research oral history, culinary culture and personal space of Moroccan women.
The Eve Carson Scholarship was established in 2008 to celebrate junior-year students who have exhibited passion and transformative growth since matriculation at the University of North Carolina at Chapel Hill. As the living legacy of former Student Body President Eve Carson, the scholarship fulfills the vision for a student-run merit scholarship that she included in her platform.