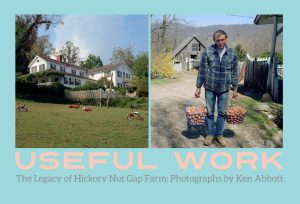 The Center for the Study of the American South in UNC's College of Arts and Sciences will debut "Useful Work," a collection of photographs from Sherrill's Inn and Hickory Nut Gap Farm by Ken Abbott at the Love House and Hutchins Forum on May 30.
The exhibit will open at 5:30 p.m. with an artist's reception, free to the public, at the Love House and Hutchins Forum at 410 E. Franklin St. The photos will be on display through the summer. Please RSVP for the reception at pathorn@email.unc.edu.
Visitors will have a chance to view the photographs, meet the families, hear oral histories from the Southern Oral History Program's "Mountain Voices" collection, and enjoy some live mountain music from members of the farm families and friends. Listen to audio clips from interviews of North Carolina farmers and community organizers here.
Located in Fairview, N.C., the farm and inn were purchased in 1916 by Jim and Elizabeth McClure, a newlywed couple down from Illinois on their honeymoon. The McClures helped found the Farmers Federation, a cooperative organization to bring better agriculture to western North Carolina. Since then, the farm has been managed and worked by five generations of the family (which now includes Agers, Hamiltons, Clarkes, and others), producing grassfed beef, pastured pork and poultry, and organic apples, blackberries, raspberries, and asparagus. Family members also run an art, drama, and horseback riding camp during the summer, as well as Flying Cloud Farm, a nearby organic fruit, flower, and vegetable farm.
The exhibit was made possible by a generous gift from Tom Kenan, a dear friend of the Clarke family who spent many memorable days and nights at Hickory Nut Gap Farm.