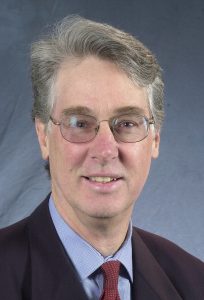 William "Bill" Rohe, a faculty member in UNC's College of Arts and Sciences, has received a Fulbright Research Scholarship to research urban revitalization in Glasgow, Scotland. He will be based at the Urban Lab in the Glasgow School of Art. The United States-United Kingdom Fulbright scholarship program is on one of the most prestigious and selective scholarship programs in the world.
Created by treaty in 1948, the U.S.-U.K. Fulbright Commission is the only bi-lateral, transatlantic scholarship program, offering awards for study or research in any field, at any accredited U.S. or U.K. University. The Commission is part of the Fulbright program conceived by Senator William J. Fulbright in the aftermath of World War II to promote leadership, learning and empathy between nations through educational exchange. Award recipients will be the future leaders for tomorrow and support the "special relationship" between the U.S. and U.K.
Rohe is the Cary C. Boshamer Distinguished Professor of City and Regional Planning. He also directs the Center for Urban and Regional Studies, one of the oldest university-based urban research centers in the country. 
 "I am very thankful to the U.S.-U.K. Fulbright Commission for providing me with this opportunity to spend six months studying urban revitalization in Glasgow, Scotland," Rohe said. "City officials in Glasgow have had great success in responding to the loss of their city's traditional heavy manufacturing industries and in reinventing the city as an important business and cultural center. I am looking forward to studying this successful effort and bringing back ideas that might be helpful to those working on urban revitalization in the U.S."
The Fulbright Commission selects scholars through a rigorous application and interview process. In making these awards the Commission looks not only for academic excellence but a focused application, a range of extracurricular and community activities, demonstrated ambassadorial skills, a desire to further the Fulbright Programme and a plan to give back to the recipient's home country upon returning.
For more information: www.fulbright.org.uk.