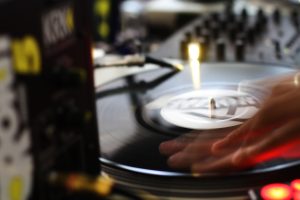 A new international exchange program created by the U.S. Department of State and the University of North Carolina at Chapel Hill will foster cultural diplomacy through popular music and dance.
Next Level is an initiative of the department's Bureau of Educational and Cultural Affairs and the UNC music department. It will use popular music and dance to foster cross-cultural creative expression, understanding and conflict resolution in younger audiences in underserved communities and support the professional development of artists in those communities.
Mark Katz, professor and chair of music in UNC's College of Arts and Sciences and the project's principal investigator, said the idea stems from the popularity of hip-hop music and dance around the world.
"In hip-hop, when artists say that they want to 'take it to the next level,' they are saying that they want to improve themselves, to surpass their current abilities," Katz said. "Next Level's artists will teach young people to develop skills and express themselves in ways they wouldn't have thought possible. The name has another meaning, too. We want to use this as a way to model peaceful and productive collaboration, to transcend conflict in creative ways."   
The program consists of four labs, "Beat Making Lab," "Dance Lab," "DJ Lab" and "MC Lab," which will be taught overseas in six countries. Artists from each of the six countries will travel to Chapel Hill and Washington, D.C., to participate in workshops and performances.
"Beat Making Lab" was founded by Katz and producer/DJ Stephen Levitin (aka Apple Juice Kid) in 2011, and Pierce Freelon joined Levitin to co-teach the class in 2012.
Together Levitin and Freelon expanded the original lab in a grassroots campaign to collaborate with communities around the world by donating equipment and software to community centers and conducting two-week residencies with talented youth. They filmed workshops and created music videos as part of a web series with PBS Digital Studios.
 Read a UNC story about the Beat Making Lab.
To apply to the program, please visit  http://music.unc.edu/next-level.