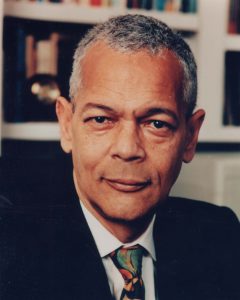 Civil rights pioneer Julian Bond will deliver the 2013 Charleston Lecture in Southern Affairs Nov. 19 at the University of North Carolina at Chapel Hill.
Bond will discuss "Civil Rights, Then and Now" at 7 p.m. in the theater of the Sonja Haynes Stone Center for Black Culture and History.
His free talk coincides with the 50th anniversary of the March on Washington for Jobs and Freedom, in which he played an important part.
The lecture is sponsored by the Center for the Study of the American South in UNC's College of Arts and Sciences.
Bond helped to found the Student Nonviolent Coordinating Committee (SNCC) and later served as its communications director. He helped to establish the Southern Poverty Law Center, based in Montgomery, Ala., and served as its president between 1971 and 1979 (he now serves as president emeritus). Bond was elected to four terms in the Georgia House of Representatives and to six terms in the Georgia Senate. Between 1998 and 2010, he was chairman of the National Association for the Advancement of Colored People (NAACP). 
Julian Bond has been on the front lines of change in the South for half a century," notes Center director Jocelyn Neal. "He brings a voice of profound wisdom, experience, and insight to our audiences."
UNC Chancellor Carol Folt will introduce Bond at the Stone Center.
"We are especially grateful to those who support the Charleston Lecture in Southern Affairs so that we can bring this caliber of guest to the Carolina community," says Neal. "It is a true honor to welcome Julian Bond to the Center and UNC."
This program is also supported by the generous contributions of the Sonja Haynes Stone Center for Black Culture and History.