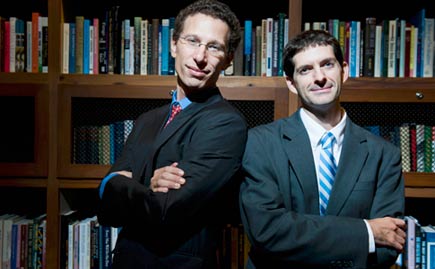 An award-winning teacher-author — who inspires students in the classroom and on the football field — and a journalist-teacher — who has written extensively about the conflicts and changes sweeping the Middle East — have been honored by the GAA with Distinguished Young Alumni Awards.
Both are alumni of the College of Arts and Sciences.
Although Stuart Alan Albright Jr. '01 of Durham and Thanassis Cambanis '96 of Beirut have taken different achievement paths, they have much in common, particularly in their impact on young people. Both received the GAA's awards at a banquet Oct. 18 at the George Watts Hill Alumni Center for bringing credit to the University through their achievements.
"The remarkable accomplishments of many of Carolina's younger alumni such as Stuart and Thanassis are truly inspiring," said GAA President Douglas Dibbert '70.
This is the 25th year the GAA has bestowed Distinguished Young Alumni Awards recognizing alumni age 40 or younger.
Albright, a native of Gastonia who graduated from UNC in 2001 with a degree in English, is an English teacher and a football coach at Jordan High School in Durham. In 2006, he was named the Durham Public Schools Teacher of the Year, and in 2007, he received a $25,000 Milken Educator Award, a national recognition dubbed the "Oscar of teaching" by Teacher magazine.
Albright, who also earned a master's degree in education from Harvard, started a publishing company specializing in the works of his creative writing students. He also has published books of his own: two nonfiction — Sidelines, about high school football in North Carolina and based on his coaching experience, and Blessed Returns, focusing on a summer he spent in Camden, N.J., working with poor students that inspired him to be a teacher — and a novel, Bull City, the story of a teacher from Durham trying to prove his brother is innocent of murder.
Cambanis, a native of Chapel Hill who graduated from UNC in 1997 with a degree in history, is a former Daily Tar Heel editor who became a foreign correspondent, launching his career with The Associated Press in Greece and Indonesia. He later focused on the Middle East, writing for publications such as The New York Times, The Atlantic and The Boston Globe. He also has published a book, A Privilege to Die: Inside Hezbollah's Legions and Their Endless War Against Israel, and is working on another about Egypt's revolution. Cambanis has been nominated for the prestigious Pushcart Prize and twice received The Boston Globe's Publisher's Excellence Award, for his coverage of the invasion of Iraq and the war in Lebanon.
Cambanis has taught journalism at Princeton University, where he earned a master's degree in public affairs and international relations, as well as public affairs topics at Columbia University's School of International and Public Affairs and The New School's Graduate Program in International Affairs.
Since 1989, the GAA's Distinguished Young Alumni Awards have recognized alumni age 40 or younger whose accomplishments have brought credit to the University. A roster of past recipients is available at alumni.unc.edu/awards.