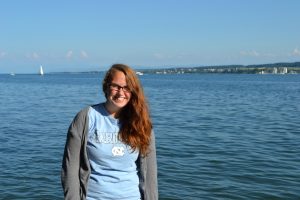 The German Academic Exchange Service (DAAD) has selected Nicole Johnson '14 to serve as a Young Ambassador for her study in Germany for the 2013-14 academic year.
Johnson studied this past year for both the fall and spring semesters at the University of Konstanz in southern Germany. She participated in the University of North Carolina Exchange Program (UNCEP) on a state-to-state exchange between UNC-Chapel Hill and Baden-Württemburg. Johnson is a peace, war, and defense, and Germanic and Slavic languages and literatures double major. At the University of Konstanz she studied within the department of political science and public administration.
The Young Ambassadors Program honors students who have studied or interned in Germany in the previous academic year to serve as liaisons for DAAD in the U.S. and Canada. All 2013 Young Ambassadors are invited to New York City to participate in a four-day seminar addressing intercultural communications, presentation skills and marketing.
DAAD Young Ambassadors will be promoting study in Germany at their home universities and colleges in the 2013-14 academic year. They help inspire their fellow students to study in Germany by working with their universities' study abroad offices, volunteering at study abroad fairs, answering questions from students, and organizing their own events on campus.
The Deutscher Akademischer Austauschdienst (DAAD)/ German Academic Exchange Service is a private, publicly funded, self-governing organization of higher education institutions in Germany.
DAAD promotes international academic relations and cooperation by offering mobility programs primarily for students and faculty, but also for administrators and others in the higher education realm. They also represent the German higher education system abroad, promote Germany as an academic and research destination, and help build ties between institutions around the world.