On September 22, 1951, Carolina junior Saralyn Bonowitz attended a party at the Zeta Beta Tau fraternity house after the first football game of the season. That day, Carolina beat N.C. State – and Saralyn met ZBT Gene Oberdorfer, who shared her class year and a Southern Jewish heritage.
Gene and Saralyn Oberdorfer appear with the cabinet of the Hillel Society in the 1952 Yackety Yack. First row, left to right: Rabbi Perlman, Saralyn Bonowitz, Linda Smith, Theodore Frankel. Second row: Leon Eplan, Mel Schwartz, Harry Lemer, Eugene Oberdorfer, Lewis Ripps, John Cronson, Hilbert Levitz.
In 2012, as Gene and Saralyn Oberdorfer celebrated 59 years of marriage, they committed to contribute a deferred gift to the Carolina Center for Jewish Studies. This gift will provide a versatile source of funding for the growing program and give Carolina students opportunities unavailable to the Oberdorfers in the 1950s.
Jonathan Hess, director of the Center, says this fund will provide crucial support to Jewish studies at Carolina.
"The Oberdorfers have been great friends to the Carolina Center for Jewish Studies, and their generous planned gift will have a major impact on Carolina students for generations to come," said Hess, Moses M. and Hannah L. Malkin Distinguished Professor of Jewish History and Culture. The couple has also supported the Ambassador Stuart E. Eizenstat Professorship in Jewish History and Culture.
"As an unrestricted gift to Jewish Studies, the Oberdorfer endowment will give us tremendous flexibility in addressing the Center's most pressing needs on a year-to-year basis—whether this means funding student research and travel, enabling faculty to develop new courses or supporting graduate students working in the field of Jewish studies."
Gene was also inspired by his parents' commitment to Jewish causes. His father, Donald, traveled the U.S. in the post-WWII era raising money as chairman of the Joint Defense Appeal for the American Jewish Committee and the Anti-Defamation League. He was a Jewish community leader in Atlanta throughout his lifetime, also serving in leadership positions with the USO and the American Red Cross. Gene's mother Dorothy was president of the Southeast Region for the National Council of Jewish Women, and active in the American Red Cross Gray Ladies Service and the Red Cross Motor Corps. During World War II, the Oberdorfer family hosted many Jewish soldiers in their home for meals.
The Oberdorfers were motivated to give not only by the examples of their family but also by their unique experiences as out-of-state Jewish students at Carolina. Gene, born and raised in Atlanta, was impressed with the quality of the UNC programs and chose Carolina in 1949 for its location in the South, and business school faculty and curriculum. Saralyn, originally from California, transferred to Carolina in 1951 after two years at Stephens College in Columbia, Mo., for the outstanding programs and faculty in the English department.
Little or no community existed for Jewish women. "Since UNC only enrolled female students in their junior year, with the exception of a few majors, there were not very many girls on campus, and very few were Jewish," Saralyn said. "I was something of a rarity."
However, Gene and Saralyn took advantage of the opportunities available. Both served on the cabinet of Hillel, the Jewish student activity center, led by Rabbi Perlman and later Rabbi Rosenzweig.  Gene described the group as loose-knit at the time. Saralyn became its president during her senior year. Though there was no academic program for Jewish studies, Gene and Saralyn took an Old Testament course with Bernard Boyd, first professor and chair of the brand-new department of religious studies.
Both Gene and Saralyn became leaders at UNC; Gene as president of ZBT fraternity, delegata of the Order of the Grail, and inducted into the Golden Fleece and Phi Beta Kappa. Saralyn became Women's Orientation Chairman, secretary of Chi Omega sorority, president of Valkyries, president of Hillel and 1953 UNC May Queen.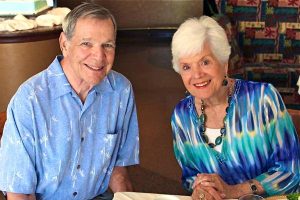 In 1953, Gene graduated with a major in business administration and a concentration in insurance, and Saralyn with a major in English and minor in education. Then, as Gene said, "Saralyn did a good thing for me: she married me." Gene enjoyed a successful career at his family's firm, Oberdorfer Insurance Agency in Atlanta, and eventually became its owner and CEO. Saralyn worked as an elementary school teacher and professional model, eventually joining the insurance firm.  Both have served on the boards of multiple civic organizations in Georgia and at UNC. They also raised three children, Michael, Julie and Robin (business administration '81).
Now, looking back on long careers of service and giving to education and the Jewish community, the Oberdorfers consider this gift to be a fitting continuation of their legacy at UNC.
"This is a way for Jewish and non-Jewish students to gain knowledge of Jewish studies," Gene said. "I think it's a great thing, because years ago there wasn't this kind of program. We hope we'll get a chance to continue our relationship with UNC Jewish studies and see that program grow."
By Brittany Darst '14