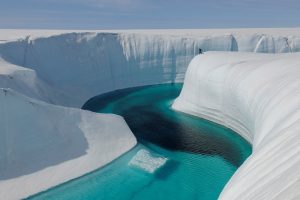 UNC geologist Jose Rial will help moderate a discussion after the film, "Chasing Ice," which will be shown April 2 at 5:30 p.m. in the FedEx Global Education Center's Nelson Mandela Auditorium.
The event is free to the public but registration is required. Visit http://go.unc.edu/ChasingIce.
In the spring of 2005, acclaimed National Geographic environmental photographer James Balog headed to the Arctic on a tricky assignment: to capture images to help tell the story of the Earth's changing climate. Even with a scientific upbringing, Balog had been a skeptic about climate change. But that first trip north opened his eyes to the biggest story in human history and sparked a challenge within him that would put his career and his very well-being at risk.
As the debate polarizes America and the intensity of natural disasters ramps up globally, Balog finds himself at the end of his tether. Battling untested technology in subzero conditions, he comes face to face with his own mortality. It takes years for Balog to see the fruits of his labor. His hauntingly beautiful videos compress years into seconds and capture ancient mountains of ice in motion as they disappear at a breathtaking rate.
The film was the winner of the Sundance Film Festival 2012 Excellence in Cinematography Award (U.S. Documentary) and the Full Frame 2012 Environmental Award.
The film will be screened in its entirety (75-minute run time). A discussion with Rial and Jeff Orlowski, director and producer of the film, will follow. Guests are asked to arrive by 5:20 p.m. to hold their registration spots. A light reception will follow.
The event is sponsored by the UNC Sustainability Office, the Center for Global Initiatives and the Institute for the Environment.