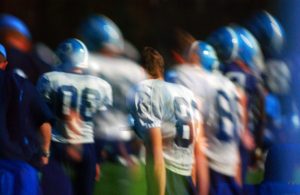 [Editor's note: Click here for coverage of NFL Commissioner Roger Goodell's talk.]
ESPN has called President Barack Obama the nation's basketball fan-in-chief.
During a campaign stop in Chapel Hill in April 2008, Obama joined in a morning scrimmage with the Tar Heel basketball team. And on Veteran's Day in 2011, he traveled to San Diego to watch Carolina play Michigan State on the flight deck of the USS Carl Vinson.
But on the eve of this year's Super Bowl, the president made sports page news when he raised concerns about football safety.
He said in an interview in the Jan. 27 issue of the New Republic, that if he had a son he would have to "think long and hard" before letting him play football.
And in an interview with CBS Evening News Anchor Scott Pelley that aired before the Super Bowl on Feb. 3 he reiterated the need to make the sport safer. "We want to make sure that people after the game are going to be OK," Obama said.
That national discussion will continue at Carolina campus on March 6 when NFL Commissioner Roger Goodell delivers the Department of Exercise and Sports Science's Carl Blyth Lecture at the George Watts Hill Alumni Center at 12:15 p.m.. There are no tickets remaining for the event, but a livestream of Goodell's remarks will be available for viewing here.
Later in the week, Carolina will hold the second Matthew Gfeller Sport-Related Neurotrauma Symposium on March 8-9, focusing on how to recognize, manage and prevent serious head injuries among high school and college athletes.
ESPN analyst Merril Hoge, a fullback who played for the Pittsburgh Steelers and Chicago Bears who was forced to retire because of post-concussion syndrome, will be a featured speaker. Other major speakers and their topics include:
Kevin Guskiewicz, Kenan Distinguished Professor of Exercise and Sport Science at Carolina and 2011 MacArthur Fellow, "Neurotrauma: Engaging research to affect clinical care";
Christopher Giza, professor of pediatric neurology and neurosurgery at the UCLA School of Medicine, "Top 10: What we do and do not know about concussions";
Gerard A. Gioia, a UNC graduate, and chief of pediatric neuropsychology at Children's National Medical Center in Rockville, Md., "Special considerations for youth athletes"; and
Robert C. Cantu, clinical professor of neurosurgery and co-director of the Center for the Study of Traumatic Encephalopathy at the Boston University School of Medicine, "Are professional sports athletes different from the rest?"