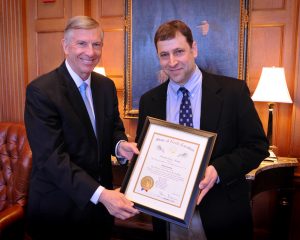 Daniel Gitterman, associate professor of public policy in UNC's College of Arts and Sciences, has been awarded the Order of the Long Leaf Pine, one of the state's highest honors.
University of North Carolina President Tom Ross, a recipient of the award in 1999, presented the award to Gitterman Feb. 27 on behalf of former Gov. Beverly Perdue in a ceremony at the Johnston Center for Undergraduate Excellence in Graham Memorial.
The Order of the Long Leaf Pine was created in the mid-1960s and is given to North Carolina citizens in recognition of a proven record of service to the state. Past recipients include such Tar Heels as Maya Angelou, Billy Graham, Michael Jordan and Bob Timberlake.
Ross said Gitterman has made sure that the University pays attention to what's happening in the state and the world.
"Dan has worked to mold civic leaders because he understands the importance of civic engagement and why it matters to society," Ross said. "He takes his academic experience into the real world."
Gitterman, who came to Carolina in 2000, served as a senior adviser to Gov. Perdue from 2009 to 2010, under a dual employment relationship between UNC and the Office of the Governor.
"When President Obama was pushing for health-care reform, he chose five regions to hold regional White House forums, and North Carolina was one of those," said Gitterman, who was the point person for a forum held at N.C. A&T State University in March 2009.
Gitterman focused on innovative programs for improving children's health, such as one that would extend low-cost health-care coverage to the parents of uninsured children and another one, Healthy and Ready to Learn, to expand health coverage to all students entering public kindergarten. His projects helped to bring $40 million in federal stimulus money to North Carolina.
Gitterman also serves as director of graduate studies in public policy and as faculty director of the Honors Carolina Burch Field Research Seminar in Domestic and International Affairs in Washington, D.C.
James Leloudis, associate dean for Honors Carolina, referenced the public engagement work of the late University of North Carolina President Frank Porter Graham in remarks about Gitterman.
"Dan does marvelous work as faculty director of our Burch Seminar in Washington, where students develop tools and the understanding to grapple with contemporary issues of domestic and international policy," Leloudis said. "He is preparing the next generation of graduates to make the world a better place."
Gitterman's research interests include the American welfare state and the politics of social policy. His book, Boosting Paychecks: The Politics of Supporting America's Working Poor (Brookings Institution Press, 2010), examines the role of federal income tax and minimum wage in supporting low income working families in the United States.
He is co-author (with UNC's Peter Coclanis) of A Way Forward: Building a Globally Competitive South, published by the Global Research Institute and distributed as an e-book by UNC Press. He is a senior fellow at the institute.