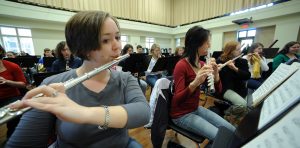 Carolina faculty's expertise will be available to online learners around the world as part of a new partnership. Music professor Evan Feldman will teach one of the courses.
Under an agreement announced (Feb. 21), the University will partner with Coursera, an online education provider, to offer non-credit courses online at no cost. The University will offer its first massive open online courses, or MOOCs, via Coursera's online platform in fall 2013.
UNC-Chapel Hill joins more than two dozen universities, including Northwestern University and the universities of Wisconsin at Madison and California at San Diego, as the newest Coursera partners. In all, more than 60 universities from around the world have agreed to provide course lectures and content online.
"Partnering with Coursera represents one more way we can make Carolina and the high-quality teaching of our faculty accessible to online learners," said Chancellor Holden Thorp. "This is the next logical step to expanding our online presence along with some of the very best universities in the world. We look forward to learning from our experiences with Coursera as we continue evaluating the right approaches to online education for our campus and our future students in North Carolina and beyond."
Five Carolina faculty members will initially offer four courses through Coursera, including:
The courses will be offered at no cost, but students who enroll will not be eligible for course credit. The UNC courses will also benefit students on campus by providing supplemental content for existing courses.
UNC-Chapel Hill joins Duke University as the only North Carolina campuses partnering with Coursera.
Coursera, launched in 2012, offers 90 courses from among the world's top academic institutions covering a broad range of disciplines. The company has 2.8 million registered users, with nearly 1.45 million course enrollments each month. Coursera's online course platform uses a blend of video lecture segments, interactive quizzes, online message forums and other measures to teach students and later evaluate their mastery of subject material.
Read more at Coursera or at the William and Ida Friday Center for Continuing Education.