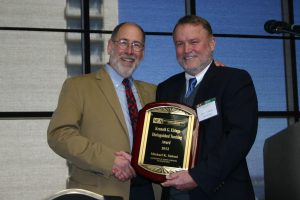 Michael K. Salemi, professor emeritus of economics in UNC's College of Arts and Sciences, received the Kenneth G. Elzinga Distinguished Teaching Award from the Southern Economic Association.
According to the award citation, Salemi was recognized for "masterful classroom performance, teaching other professors how to become better teachers and publishing research on effective teaching methods."
In the classroom, Salemi used strategic questioning and discussion to engage students in active learning. He also perfected an approach to promoting class participation through use of clicker technology.
Salemi has won a number of awards and has led the Teaching Innovations Program, which provided academic economists from across the country with training in the use of active learning strategies in their own classrooms. The program has had a broad and long-lasting effect on improving teaching of economics by its many participants.
Salemi has published two books and a 35-year-long stream of journal articles and book chapters on economics education and teaching innovations.
The Kenneth G. Elzinga Distinguished Teaching Award annually honors one or more faculty members for outstanding contributions to economics education. Elzinga, the Robert C. Taylor Professor of Economics at the University of Virginia,  is recognized as one of the most accomplished, effective and influential educators in the economics profession during a career that has spanned more than 35 years.