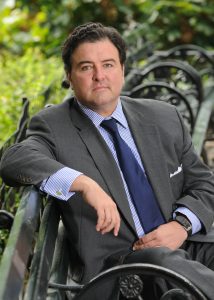 Carolina students taking Spanish can thank Duke Buchan III '85 and his early obsession with the World Book Encyclopedia for innovative learning experiences that make the language more relevant than ever.      
Buchan is the highly successful founder and CEO of Hunter Global Investors L.P., a money management firm based in West Palm Beach, Florida, where he lives with his wife Hannah and their three young children. He has served on the Arts and Sciences Foundation Board of Directors since 2008 and was recently named to the University's Campaign Planning Cabinet.
In 2011, he established The Buchan Excellence Fund in the Department of Romance Languages and Literatures — the largest single endowment at Carolina dedicated to support faculty, graduate students and undergraduates working in Spanish languages, literature and culture. 
"We are confident that our support will help take UNC students, professors and the institution itself to a higher level," Buchan said. "As a family, we are highly focused on education. We are honored to give something back to the university that has given us so much."
As a child in rural Vance County, N.C., Buchan devoured the photos and words in his World Book Encyclopedia, fascinated with places beyond the tobacco fields near his home.  That quest for knowledge, coupled with dinner table discussions centered around Carolina basketball greats Charlie Scott or Billy Cunningham, set Buchan's academic path in motion. 
"Growing up in a small town less than 60 miles from Chapel Hill, Carolina was all I knew," Buchan said.  "Most importantly, our family knew that UNC offered one of the best college educations in the country at an unbeatable cost — roughly $650 in tuition for my freshman year."
After his high school Spanish teachers, both Cuban natives, encouraged him to spend a summer in Valencia, Spain, Buchan was "hooked on seeing the world."
At Carolina he continued his Spanish studies and added economics as a second major because of his interest in business and entrepreneurship.  He enrolled in the university's year abroad program in Seville, Spain, for what he describes as the most transformative year of his life.
"The study of the Spanish language, literature and cultures provided me a passport to a world outside the U.S. and instilled in me a global perspective," Buchan said. "My first job out of Carolina was in Miami in 1985 where I used Spanish on a daily basis."
Today at their home in South Florida, the Buchans are immersing their children in Spanish where they use it every day in school and with friends. Both Buchan and his wife have lived or vacationed in South Florida most of their lives with the different Hispanic and Latin cultures being a big attraction for them.
"We love South Florida and one of the draws for us is the exposure that we get to a number of Latin cultures on a daily basis," Buchan said. "For instance, on a recent weekend, our children heard Argentine, Colombian, Cuban, Guatemalan and Mexican Spanish all in one day. What a gift! Even at their young ages, our children can identify accents from different countries."
Buchan, a serial entrepreneur who earned his M.B.A. at Harvard Business School in 1991, saw the need to change and adapt as he watched his home state's traditional industries — tobacco, textiles and furniture — decline over time. 
The Buchan Fund's first-year success
In its first year, The Buchan Fund is directly addressing the growing influence of Spanish language and culture and the change it is bringing to the world.  
"We hope that our gift to the department will inspire more students to study the Spanish language and culture," Buchan said. "Those students will, in turn, use that knowledge to make an impact in their communities."
The department made awards to a wide range of recipients, including undergraduates, graduate students and faculty.  
Helping local Latino micro-entrepreneurs
Professor Darcy Lear oversees the minor in Spanish for the Professions, a program that has jumped in enrollment from 280 students in 2004 to more than 700 in 2012.  Spanish is the fourth most spoken language in the world, and continues to grow in popularity.
"Experiences outside the classroom are vital to student training, and we accomplish this through community service-learning," said Lear. "The Buchan Fund has made possible a partnership with Acción Emprendedora USA, an area organization that focuses on local Latino micro-entrepreneurs. 
"In the fall of 2011, 24 students prepared marketing programs for the organization and documented local entrepreneurs' stories on its website.  From this experience, students are practicing their language and interpersonal skills while learning about the reality of many low-income Hispanic entrepreneurs who live and work in the same community as they do," said Lear.
"Students also have an opportunity to experience the real-world applications of the business and entrepreneurial content of the courses in the minor while also allowing them to actively participate in furthering the mission of Acción Emprendedora," said Lear.
Chapel Hill and Seville "Pen Pals"
The Fund in the spring of 2012 supported graduate teaching fellow Britt Newman, project director for "21st Century Pen Pals."  The program facilitated Internet video communication between three bilingual elementary school classes in Chapel Hill and three classes in Seville, Spain.
Newman worked with six undergraduates who helped the school children plan and prepare short bilingual videos in which they introduced each other to their favorite toys, likes and dislikes, their schools, families, cultures and daily lives. More schools will be added this academic year.

Glynis Cowell, director of Spanish language instruction and senior lecturer, named Newman the project director. 
"We all enjoyed being able to facilitate this communication between elementary school students in bilingual programs, and we made many interesting discoveries," said Cowell.  "Our students, for example, were amazed and humbled by the Spanish language and near-native pronunciation of the non-Hispanic children in Chapel Hill's bilingual programs. The school children both in Spain and the U.S. were enthusiastic and curious about the schools and daily lives of their counterparts abroad. The somewhat elaborate planning required for this project would not have been possible without The Buchan Fund."
Furthering teaching and research
Sarah Apffel, a Ph.D. candidate in Spanish from League City, Texas, helps undergraduates prepare research papers and oral presentations in a survey course, "Courts, Courtiers, and Court Culture in Early Modern Spain."  Her own research is on Spanish Renaissance Theater, particularly how medical discourse and the body are represented in the plays. Buchan funding enabled Apffel to attend the Festival de Teatro Clásico in Almagro, Spain, where she heard conference presentations, attended workshops and performances of classical plays in the setting of a medieval Spanish town.
"I am deeply grateful to The Buchan Fund for the opportunity to attend this festival in Spain, which deepens my knowledge of the history of Spanish classical theater and broadens my understanding of current research on classical theater," said Apffel, who also volunteers weekly for an organization that provides mental health counseling and resources to the Latino community.
Bruno Estigarribia, assistant professor of Spanish linguistics, received Buchan funding to begin a data project on Argentinian Spanish.
"With Buchan funding, I began a new project, "The taming of the WWW:Web-based language research of tomorrow," aimed at developing computational tools to analyze social media and web data for linguistic and humanities scholarship purposes," said Estigarribia.
Department chair and professor of Spanish linguistics Larry King said he is actively involved in teaching with technology and in helping Spanish majors to use the skills they have worked so hard to acquire.
"We use undergraduates for 'conversation partners' in elementary Spanish, as group leaders in Advanced Grammar and Composition, and in the future, I hope to establish a writing workshop where advanced students will help intermediate students practice writing," said King. "In the spring of 2012, I used Buchan funding to hire three undergraduate students to serve as group leaders in my undergraduate Grammar and Composition honors section. This allowed the class to complete exercises 30 minutes a week in small groups led by the student assistants, who very much appreciated the opportunity to put to practice the skills that they had developed in Spanish grammar."   
Local Latinos and their lives in Chapel Hill
Jennifer Wooten, a lecturer in Spanish and clinical assistant professor of education, designed Spanish class to focus exclusively on Latinos in North Carolina.
"Students interacted directly with members of the local Spanish-speaking community during community placements (including a minimum of 30 hours of service in educational and medical contexts) and via projects that linked the classroom to the community," said Wooten. "For example, the first chapter in our textbook focused on vocabulary related to stores and businesses and commercial items that one might find in such establishments. Rather than relying wholly on the textbook, I designed a project where groups of students would visit local Latino stores to survey the goods available, buy an item (with funds provided by The Buchan Fund), interview store employees and customers, and to make comparisons between those stores and those that the students generally frequent. This project allowed students the experience of visiting a Latino store (new to nearly all of them), to see the items discussed in class in a real-world and culturally rich context, and to converse with Spanish speakers about their buying habits.
"My students' experiences made possible by The Buchan Fund were profound. One student commented to me that his visit to the Latino store made him see Chapel Hill-Carrboro in a new light. He explained that he had passed the store many times but that he never actually SAW it. In fact, the local Latino population was invisible to him. The visit to the store helped him 'see what has always been in my face!' (to quote him), which was the number of Latinos in this community and the realities of being Latino in Chapel Hill-Carrboro. This experience, in conjunction with his service project, helped him (and the other 19 students in the course) use their language skills in 'real' situations and, more importantly, understand that the Spanish language and Hispanic cultures are not 'foreign' in this area. Such understanding would not have been possible without The Buchan Fund, so '¡Gracias!' from me and my students!"
[Story by Del Helton, fall 2012 Carolina Arts & Sciences magazine ]