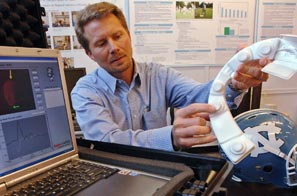 UNC professor Kevin Guskiewicz first became concerned about concussions when he was an athletic trainer with the Pittsburgh Steelers in the early 1990s. More than 20 years later, he's one of the leading experts in the country on the short- and long-term health effects of concussions on athletes across all levels of play.
Today (Sept. 20) the John D. and Catherine T. MacArthur Foundation of Chicago, Ill., awarded Guskiewicz a MacArthur Fellowship, (watch video) an unrestricted award given to talented individuals who have shown extraordinary originality, creativity and the potential to make important future contributions. The 22 fellows, nominated anonymously by leaders in their respective fields, each receive $500,000 in "no strings attached" support over the next five years.
According to the MacArthur Foundation, "Kevin Guskiewicz is contributing significantly to state and federal policy discussions concerning development of more stringent return-to-play guidelines and head-gear investigations that will improve the safety of athletes of all ages."
Guskiewicz is the Kenan Distinguished Professor and chair of the department of exercise and sport science in UNC's College of Arts and Sciences. He also is co-director of the Matthew Gfeller Sport-Related Traumatic Brain Injury Research Center and research director for the Center for the Study of Retired Athletes.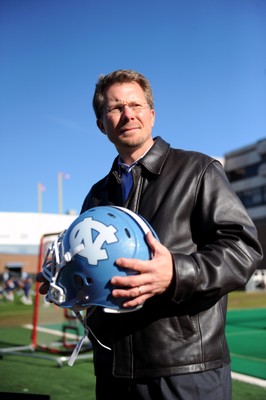 A friend and colleague once called him "a triple threat" when it comes to teaching, research and service.
Guskiewicz helped write concussion guidelines that are now recommended by the National Collegiate Athletic Association, the National Football League, the National Athletic Trainers' Association and the American College of Sports Medicine.
With retired NFL players, he has documented a disturbingly high correlation between those who have suffered multiple concussions in their careers and the early onset of neurodegenerative changes like depression and dementia following retirement from sport. In 2004, he and his colleagues began equipping UNC football players' helmets with "accelerometers" to measure the impact of concussions. His research team, which includes faculty, staff and graduate students from several UNC departments, learned that the location and force of a hit did not necessarily relate to the clinical outcome following concussion. More importantly, however, they found that the head impact data can be valuable in changing a player's behavior, by educating them about poor techniques that predispose them to concussive injury.
"We have an amazing interdisciplinary research team at UNC, and the MacArthur Fellowship will help us to expand our work into developing injury prevention strategies and rehabilitation protocols for concussion that can help to preserve sports as we know it today," Guskiewicz said.
Guskiewicz has been the recipient of 20 funded research grants, and has published over 90 journal articles and seven textbook chapters related to concussion in sport. In 2010, he was named to the NCAA's concussion committee and the NFL's head, neck and spine committee.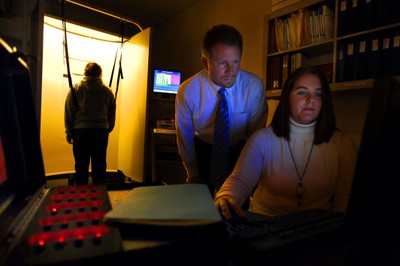 "Kevin Guskiewicz is a wonderful example of how a faculty member's innovative research — both in the lab and in the field — advances knowledge that saves lives," said Chancellor Holden Thorp. "He has become one of the go-to experts in America when it comes to the widespread problem of sports-related concussions. We are thrilled and proud that the MacArthur Foundation has selected him for such important recognition."
Although he has a passion for his work, Guskiewicz makes it clear that he's not seeking to fundamentally change the sport of football or other contact sports.
"Concussion is a very complex injury. Managing this injury effectively is sort of like piecing together a puzzle. Piece by piece, we gain a clearer picture of concussion and its severity," he said. "As scientists, coaches, administrators, and doctors, we bear the responsibility of keeping our athletes safe."
For more on Kevin Guskiewicz's research, visit http://endeavors.unc.edu/spr2008/football_concussions.php.